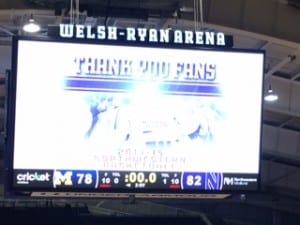 "It's a program building win" – Coach Collins
It was 'senior night' in Evanston as the Cats started the game with Dave Sobolewski and JerShon Cobb, who played their last collegiate game at Welsh-Ryan Arena on Tuesday night. The standing ovation was not the only memory the seniors would have of the night as Northwestern beat the Michigan Wolverines in double overtime.
Northwestern had their 4-game winning streak broken by in-state rival Illinois last Saturday, 86 – 60 and the game wasn't even that close. After playing great team defense during the winning streak, the Cats seemed rushed against the Illinois and it was reflected on the scoreboard. NU was able to regroup after the loss and regain their defensive aggressiveness their fans were accustom to seeing during their victories.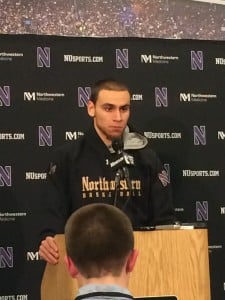 The man of the night was Tre Demps who played 'savior' not once, but twice, as the Cats stole a victory from the Wolverines. Demps hit a 3-pointer with 2.4 seconds left to send the game to the first overtime and then did it again to send the game to a second overtime. "I am never not confident when taking those shots," Tre Demps said after the Michigan win. Demps finished with 20 points and was 4 – 5 from three's and was the emotional leader on the court during crunch time. If Michigan was not on the bubble before the game, they definitely are now.
NU could not contain Michigan's 6' 6" freshman Aubrey Dawkins, who went 7 – 11 for 2i points and hit 4 three pointers. Dawkins was effective scoring in the paint or from the outside and had no problem getting to wherever he needed to on the floor. Another year under Coach John Beilein and Dawkins could receive national attention if he keeps progressing on both ends of the court.
On the other side, Michigan had no answer for Alex Olah as he abused Ricky Doyle and Mark Donnal in the post all night. Olah ended up with 25 points on 12 – 18 shooting and pulled down a team high 12 rebounds while hitting a huge 3 pointer in the 2nd overtime.
NU's fans should never have been under the impression that this team was going to make the dance but they should have hopes for an NIT bid after the Big Ten tournament. Coach Chris Collins and his staff have made it clear that they are in the middle of a rebuilding process and need to build off of the momentum they have created with some recent wins. This win over Michigan will hopefully be the beginning of something special in Evanston.
Coach Collins talks about the Michigan Northwestern game and NU moving up in the Big Ten
@WesEvans24
Podcast: Play in new window | Download