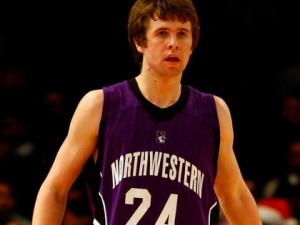 If things were up to Michigan coach John Beilein, Northwestern would end their NCAA tournament drought.  "We have beaten them twice in OT. This league is so good.  The last shot could have gone in, and we could have been 0-2 and they're in the tournament.  That's how close this thing is.  You watch them play. It's a thing of beauty."
Beilein's players seem to feel otherwise, and by escaping in overtime with a 67-55 victory, may have knocked the Wildcats out of March Madness.  Only a win against Ohio State or two wins in the Big Ten tourney might be Northwestern's only chance. They are now 6-9 in conference play.
Despite an injury to Drew Crawford, and a less than stellar effort from John Shurna, the Wildcats and Wolverines battled through six lead changes and three tied scores as each time had a chance at a final shot in regulation. However,  NU's JerShon Cobb's three-pointer missed by a wide margin.
Northwestern's 31-18 halftime lead lasted until just under nine minutes were left in the contest. Matt Vogrich's three pointer made it a 39-38 Wolverine lead.
In overtime, it was all Michigan.  Trey Burke, Zack Novak, and Stu Douglass all hit from beyond the arc.  They were part of a barrage of 38 attempted treys throughout the game, of which fourteen found the bottom of the net.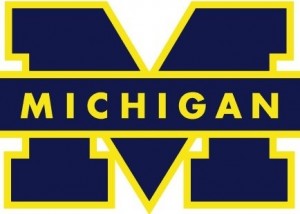 Beinlein added, "We hung in there and hung in there.  Foul trouble hurt us in the first half.  Jordan Morgan is a big presence, and it helped us, because (earlier) they were getting the offensive rebounds.  Their three-point game is as good as anybody's, and we just tried to learn from each time we'e played them. It's such a challenge.  We ty to learn from the way they play, and try to make some adjustments. " He declined to share any of these adjustments.
Northwestern coach Bill Carmody also pointed out the rebound factor, "I think We had eight offensive rebounds in the first half.  Did a nice job.  In the second half it seemed that we got worn down.  Then we turned the ball over fourteen times.   It seemed the whole game John (Shurna) was reluctant to shoot."
In reality Michigan threw everything but the kitchen sink at NU's top scorer, limiting him to 6-16 shooting. Michigan's Burke led all scorers with 19, and played every minute of the game, including the extra period. Tim Hardaway, Jr added 14, and Douglass tossed in 12.
The crowd of 8117 had a fair share of fans clad in maize and blue, but the Wildcat supporters were quite vocal in hopes of spurring their team on.  Unfortunately, Northwestern was guilty of something they've done all season – failing to close out an opponent when they had the chance.
Listen to the postgame comments from coaches Beilein, Carmody, and NU players Reggie Hearn and Davide Curletti
[ti_audio media="2607″]