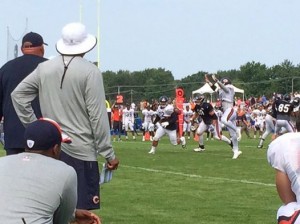 Usually, losing a guy who caught two passes for 13 yards the previous season would not seem like a huge blow to a team who already features two of the top receivers in the league. However, you could see the disappointment and regret from the Chicago Bears coaching staff and players when second year wide receiver Marquess Wilson was carted off the field at practice on Monday after suffering a fractured clavicle while diving to make a catch.
Wilson said he " couldn't breathe when he hit the ground" on the play, but was also not ready to give up hopes of playing this season. stating that, " he did not know if the injury would require surgery."
Wilson was expected to become the Bears No.3 receiver this season after the team released Earl Bennet in March. Listed at 6-foot-4, 184 pounds, Wilson had some ups and downs the first two weeks of training camp but was expected to make a huge contribution to a team with championship aspirations.
" I am extremely disappointed" head coach Marc Trestman said after practice Monday. " He was continuing to ascend, It's football unfortunately"
Wilson was a seventh round draft pick in 2013, and had spent the offseason training with Alshon Jeffery and Brandon Marshall in Florida while hoping to make a impact this season as the slot receiver. Wilson went down while trying to make a play between defensive back Charles Tillman and safety Danny McCray. At first it looked like Wilson just had the wind knocked out of him as he fell on the ball and drove his left shoulder in the ground, yet, when he didn't jump up, the worries began to set in.
" You hear us say it all the time in practice, stay off the ground, Trestman added after practice. " Diving for balls is one of the most difficult things not to do when you are a competitive player"
It is unclear how much time Wilson is expected to miss. Team officials were unsure if the injury would require surgery, if not, the recovery time is much shorter. Even without surgery required, Dallas Cowboys' quarterback Tony Romo missed the final 10 games of the 2010 season with the same type of injury. A more hopeful example would be San Diego Chargers running back Ryan Matthews, who suffered the same injury in the first preseason game of 2012 and would return week three of the regular season.
With the freak injury to Wilson on Monday, the Bears will now look to Chris Williams, Eric Weems, Josh Morgan and Armanti Edwards to compete for time as the No. 3 receiver with the teams first preseason game scheduled for Friday at Soldier Field against the Philadelphia Eagles.
Wilson was not the only player to start and not finish practice due to injury. Veteran linebacker Lance Briggs, who had a terrific week of practice last week, also left with a knee bruise. Briggs will be reevaluated before practice tomorrow.
Practice Notes for Monday
– The Bears were scheduled for the teams first afternoon practice of training camp ( 3 pm) however, due to potential storms later in the afternoon, the team decided to practice at 11 am.
– Practice was cut short due to a on field incident during 11 on 11. Tight end Martellus Bennet slammed rookie defensive back Kyle Fuller to the ground after Fuller tried to strip the ball from Bennet. "I come to training camp for one reason and that's to prepare to win a championship," Bennett said after practice. "I play hard and go hard every single day. I'm probably one of the most violent people on the field. That's just my style of play.
Fuller also spoke about the incident saying "You get into fights and things like that. At the end of the day, you're all good."
– Ryan Mundy and Adrian Wilson saw action as the first team safeties on Monday. Danny McCray was moved to the second team for practice.
– The Bears will practice Tuesday and Wednesday before an off day on Thursday.