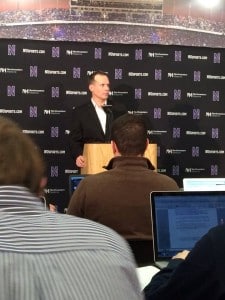 Vic Law is finally starting to figure it all out and the results have been great for the Northwestern Wildcats.
After a 10-game conference losing streak, Northwestern had finally started to show signs of life by winning two straight Big Ten games— including a road win against Minnesota on Wednesday night.
On Saturday afternoon the Wildcats looked to stay hot when they welcomed Penn State to Welsh Ryan Arena for the lone regular season meeting between the two teams— in a matchup of two squads looking for just their fourth conference win of the season.
Northwestern (13-14, 4-10) continued their strong play in the first half, taking a 28-20 lead into the break. Law would lead the Wildcats in the first half with nine points and six rebounds and Northwestern forced nine turnovers to take control early and frustrate the Nittany Lions with their new look zone defense.
Law would stay dialed in for the second half, scoring eight more points to finish the game with 19 and a game high 11 rebounds to lead Northwestern to a 60-39 win, after outscoring the Nittany Lions 32-19 in the second half.
"Vic is going to be a good player in this league" Northwestern head coach Chris Collins said after the win on Saturday. "He knows no one believes in him like I do. He believes in me, he believes in our program. He believes in what we are trying to do."
Law entered Saturday's game averaging just 6.3 points per game on .365 shooting. Saturday was another story however, as Law would play his best basketball of the year. " Welcome to the Big Ten" Collins would tell his young star after the game.
" I am starting to get used to college basketball now" Law said. "Everything is getting a little easier. My mindset has changed greatly since the beginning of the season to now. I am starting to mature more."
Northwestern would also get 16 points from guard Tre Demp's on 5-10 shooting from the field, and Alex Olah would chip in with 10 points and five rebounds to help Northwestern win their third straight conference game.
Penn State dropped to 15-13 this season and 3-12 in the Big Ten. Leading scorer D.J. Newbill came into the game averaging 21.1 points per game, but was held to just three points on 1-6 shooting. The Nittany Lions were led by Geno Thorpe who would score 13 points on 5-17 shooting in a losing effort.
Northwestern will look for their fourth straight win on Wednesday when they host Indiana. (18-9)
Penn State will look to get back on track on next Saturday when they host Iowa (16-10)
Click below for Audio from Saturdays game.
Podcast: Play in new window | Download