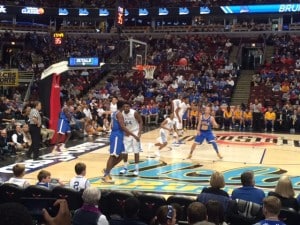 The old fashioned college basketball doubleheader returned to Chicago on Saturday as the United Center played host to the CBS Sports Classic.
It may not have rekindled the spirit of the legendary Arthur Morse who staged high profile games at the old Chicago Stadium involving nationally regarded hoops teams and local squads like Illinois or Loyola.
CBS' latest incarnation is a traveling circus that stops in the Windy City this year, New York in 2015, and Las Vegas the following December.  Kentucky, UCLA, UNC, and Ohio State will participate in each one.
The 2014 Classic wasn't classic at all, unless you were a Wildcat or Tar Heel fan.
The Bruins spotted Kentucky 24 points before making their first basket, and managed all of seven points to trail 41-7 at halftime. The Wildcats could have scored one more basket and still won. Instead, they rattled off another 42 in route to an easy 83-42 victory. The taller, more physical Kentucky players were constantly denying the basket, forcing turnovers, and grabbing most of the rebounds. The Bruins had to settle for outside shots by Bryce Alford and Isaac Hamilton, only two of three UCLA players who scored more than two points. Wildcat guard Devin Booker led all scorers with 19 points in just sixteen minutes of play.
Despite the blowout win, coach John Calipari found things to work on. "I can tell you we gave up twenty offensive rebounds," He said after the game. "We are the worst defensive rebounding tall team in the history of basketball. We give up too many offensive rebounds, and it's going to cost you.  This team (UCLA) missed a lot of open shots, and when they settled down, they made those shots in the second half."
Calipari audio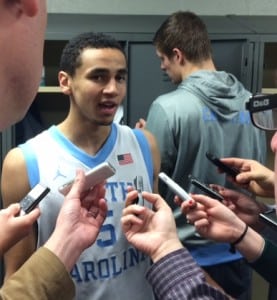 The opening game was somewhat closer, but 12th ranked Ohio State's only lead was after scoring the first bucket of the game. The upstart 24th ranked Tar Heels never looked back, leading by as much as 18 points in the second half. Buckeye Marc Loving led all scorers with 19 points in a 82-74 loss to UNC. In the elevator going up to the press box, just before the game, we could hear the PA announcer called out his name, to which I joked "McLovin!"  Unbeknownst to us, an OSU media staffer was also along for the ride. In a very not amused way, he retorted, "His name is Marc Loving!"  Well, that was all the inspiration I needed to call out McLovin (somewhat quietly) in the pressbox each time he scored.  There is nothing like a good private joke that only a few folks are privy to.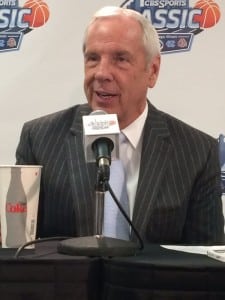 The Tar Heels, who sported vintage 1982 uniforms got a much needed morale boost from the win, following a 14 point drubbing last weekend at Kentucky and an easy win over in state UNC-Greensboro.
UNC coach Roy Williams felt fortunate to come away with a win. "I thought we did some good things," he stated in his postgame comments. "I thought defensively we were pretty good, and then all of the sudden at the end we started fouling, and our best free throw shooters were missing free throws, and we turned it over, and then Kennedy (Meeks) missed a lay-up."  Williams added, "But we kept getting them to take one shot, and us rebounding it on the other end."
UNC's Marcus Page and Kennedy answer questions in the locker room
Ohio State coach Thad Matta gave credit to UNC.  He noted, "they made all the plays the plays they needed to make when they needed to make them, and we weren't able, especially in the first half." Matta alluded to the fact that the Tar Heels played more in line with the top five preseason ranking bestowed upon UNC.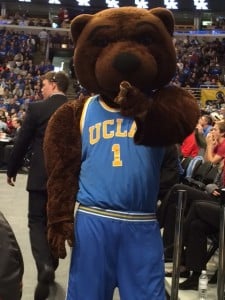 Our seats in the press box provided a birds eye view of the action. That's OK for hockey, but not ideal for hoops, so my SRN colleague Phil Meyers and I found some empty seats in the second row in the corner behind the UK bench.  There we spotted former Wildcat and Boston Celtic Antoine Walker taking in the action. That's also where I had a run in with the UCLA Bruin mascot.  Not one to miss a chance to rub it in, he was posing for selfies with spectators, when I motioned to him and flashed him the two-finger "Fight on!" sign used by the rival USC Trojans.  It's a good thing mascots don't talk, but his expressions were priceless, as captured by Phil on his phone camera. In the second half we moved once again, this time to midcourt, behind the television announcers for our best vantage yet.
North  Carolina gets a much needed week off until they face Alabama-Birmingham and William & Mary prior to the start of ACC Conference play.  The Buckeyes take on in-state teams Miami of Ohio and Wright State before heading into Big Ten conference action. The Bruins travel to Tuscaloosa for a date with Alabama, while Kentucky heads to nearby Louisville, before each team begins their conference schedule.
Podcast: Play in new window | Download