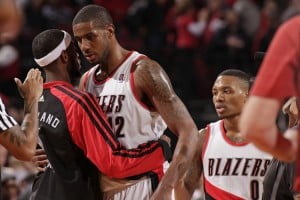 In a season full of underachieving teams and depressing injuries, the Portland Trail Blazers have emerged as one of the NBA's more positive and surprising stories. After 23 games, it is reasonable and accurate to declare Portland as a legitimate contender in the Western Conference. Over the first month and a half of the season, Portland has impressive wins over Golden State, Indiana, Oklahoma City and Houston. The Blazers' 19 wins is tied with the Pacers for the most in the NBA. This season's success comes a year after the Blazers missed the playoffs. In hopes of landing a playoff spot this season, Portland made several moves to improve their roster.
The Blazers spent the off-season improving their dreadful bench, adding Mo Williams, Dorell Wright and former lottery pick Thomas Robinson. Moreover, Portland acquired Robin Lopez from New Orleans to provide a defensive presence and energy to their starting unit. These additions have meshed well with Portland's nucleus of LaMarcus Aldridge, Damian Lillard, Nick Batum and Wes Mathews, resulting in a team that plays an exciting and team-oriented brand of basketball. A look into the stats offers a further explanation of Portland's success.
Portland's primary strength is its offense. The Blazers are scoring 109.5 points per 100 possessions, two points more than any other team in the NBA, per NBA.com. Portland does not rely on pushing tempo or looking for fast-break points. In fact, they rank near the middle of the league in possessions per 48 minutes and towards the bottom of the league in fast-break points per game. Rather than playing at a fast pace, the Blazers utilize their roster of quality shot-makers to compile big offensive numbers. Portland is shooting an astounding 40.9% from three-point range this season, second highest in the NBA, per NBA.com.  Wes Mathews has been Portland's most effective shooter, hitting 46.8% of his three-point field goals and scoring 16.3 points per game, per NBA.com. A look at Mathews' shotchart shows how he has been especially accurate from the corners.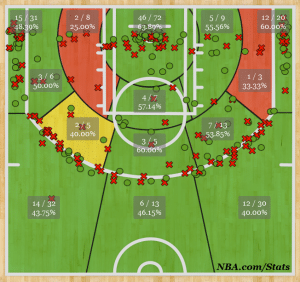 Despite a shooting percentage of just 39.7%, point guard Damian Lillard has demonstrated the ability to make difficult shots for his team. Lillard is shooting 40.6% on unassisted three-pointers, per NBA.com. In addition, Lillard is shooting an effective field goal percentage (adjusted for the value of three-pointers) of 44.4% on pull-up shots, good for second in the league, per NBA.com. The pull-up shot is defined as a shot outside of ten feet where a player took one or more dribbles before attempting the field goal. These two types of shot are difficult because a player must gather his dribble and gain proper balance in the same instant. These shots are also valuable because they bail offenses out of disrupted sets. Lillard's ability to make these difficult shots is a useful lifeline to stretches of stagnant offense. Watch as Lillard takes advantage of a switch and hits a pull-up, unassisted three-pointer.
https://www.youtube.com/watch?v=XMNnjUogdeU
Portland has also benefited from LaMarcus Aldridge playing at an all-star caliber level this season. Aldridge is averaging 23.5 points and 10.6 rebounds per game, per NBA.com. The eight-year pro out of Texas has always been an above-average mid-range shooter and Head Coach Terry Stotts has designed many sets that look to take advantage of Aldridge's ability to shoot. This season, Portland has produced many quality looks for Aldridge when using him in pick-and-pop sets with Damian Lillard and Mo Williams. Aldridge has been excellent in these type of catch-and-shoot situations, shooting 51.6%, per NBA.com. This mark is good for second best in the league with a minimum of five attempts per game, trailing only Kyle Korver. Watch as Aldridge and Lillard run a pick-and-pop to generate a wide open mid-range jumper.
Coach Stotts has emphasized defense to his team beginning in training camp. The Blazers have definitely improved in this area since last season, going from one of the worst defensive teams in the league to the middle of the pack. Robin Lopez has been a big reason for this improvement. Lopez has provided an important defensive presence in the paint and opponents are shooting just 44.4% on shots at the rim with Lopez defending them. This figure is slightly better than the likes of Dwight Howard (44.9%) and Serge Ibaka (44.8%), per NBA.com. Still, opponents are taking 32.3 shots per game within 5 feet of the basket against the Blazers, the third highest mark in the league, per NBA.com. Portland will have to continue to improve its perimeter defense in order to keep players from driving into the paint and getting easy looks.
If Portland is able to continue its great offensive play while making strides defensively, they will have an opportunity to make some serious noise in the Western Conference playoffs.