The story of how Michael Jordan and Nike changed the shoe business has been turned into a Hollywood film.
Here's the real story, culled from Michael Jordan:The Life, by Roland Lazenby, one of the best biographies ever written about Jordan.
Sonny Vaccaro and his college roommate started the Dapper Dan Roundball Classic in the early sixties. It was a tournament for top level high school basketball players. In short order, it became a showcase for the best prep players in the country. Vaccaro parleyed the event into building relationships with all the top coaches in college hoops.
In 1977 Vaccaro approached Nike to pitch them on the idea of a new shoe. The Oregon based company wasn't interested. However, one of Nike's top executives, Rob Strasser realized the value of Vaccaro's connections to the college coaches. Strasser hired the enterprising upstart to enlist colleges to get the players to wear the Nike product. In those days Nike was not the behemoth it is today, probably worth less than thirty million dollars.
As Vaccaro lined up a roster of coaches like John Thompson and Jerry Tarkanian, the $5000 payouts and the free shoes may have been ethically questionable, yet it was perfectly legal under NCAA rules. Nike sales started to takeoff with the new visibility, such as Larry Bird appearing on Sports Illustrated, outfitted in the company's shoes. Ironically, the more people scoffed at the process, the more coaches wanted in for themselves.
In 1982, Vaccaro witnessed Michael Jordan's electric game-winning shot at the Final Four in person and had an epiphany. He had an glimpse of the future of pro basketball, and rightly concluded that MJ's good nature and charisma could make him a huge star.
Vaccaro urged Nike to sign the budding superstar to a contract and build a product line around Jordan. The company's entire marketing budget for NBA basketball was a mere $2.5 million. He begged Strasser, "Give it all to the kid."
He went on and on about Jordan's potential to take athletic shoe marketing to another level. Vaccaro was prescient enough to predict that Jordan was going to become a superstar.
"Whatever money we had, give it to him."

-Sonny Vaccaro to Nike
Strasser than asked Sonny, "You gonna bet your job on it?" Vaccaro didn't flinch.
Strasser then reached out to Jordan's agent David Falk, who agreed they could market Jordan like a golfer or a tennis player. Work with him as an individual, rather than a team player.
When Jordan left UNC after his junior year, Strasser, Falk, and Rob Moore, creative director for Nike met in August of 1984 and one of their ideas for branding was "Air Jordan." At that meeting Moore made a sketch of a logo wings around a basketball and the words "Air Jordan."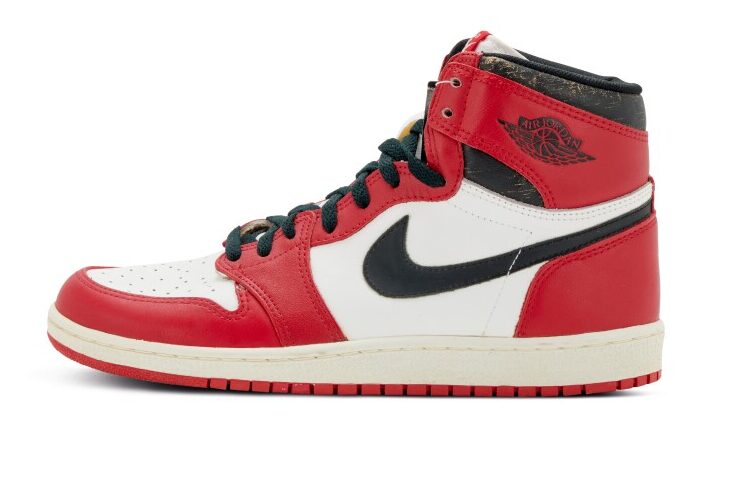 The other person who had to be convinced of this idea was Nike's founder Phil Knight. Vaccaro brought announcer Billy Packer with him and met with the elusive company chairman. At the same time, Vaccaro enlisted George Raveling, who had been an assistant coach on the '84 Olympic, team to secure Jordan.
It took another month, and Nike had to fend off offers from Addidas and Converse. Vaccaro, Strasser and Falk made a deal whereby the entire two and a half million would be paid to Jordan over five years. Nike made a huge commitment to market the product and threw in a twenty-five percent royalty on every Air Jordan sold.
It was an enormous gamble for Nike, as Jordan got drafted by a terrible Bulls team whose players had a reputation for recklessness and drug use. The last piece of the package was Howard White, a former Maryland player who would go on to be Jordan's direct connection to Nike.
The rest as they say, is history.