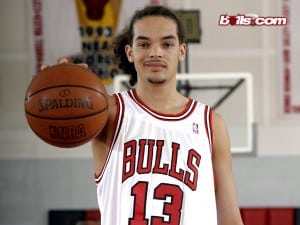 From the Chicago Bulls and news wires….
NEW YORK, June 4, 2014 – The Oklahoma City Thunder's Kevin Durant, the 2013-14 Kia NBA Most Valuable Player and winner of four scoring titles in five seasons, highlights the 2013-14 All-NBA First Team.  Durant was the lone unanimous selection, appearing on all 125 ballots as a First-Team pick while LeBron James of the Miami Heat garnered 124 First-Team votes.
Joining Durant and James on the First Team are Chris Paul of the Los Angeles Clippers, James Harden of the Houston Rockets and Joakim Noah of the Chicago Bulls.  Harden and Noah captured First Team honors for the first time in their careers.  Paul is an All-NBA First Team selection for the fourth time.  Durant makes his fifth appearance on the First Team, while James earned his eighth All-NBA First Team nod.
Durant averaged a career-best 32.0 points to go with 7.4 rebounds and 5.5 assists, also a career high.  In capturing his fourth scoring title, he joined Jordan (10), Chamberlain (seven), Gervin (four), and Allen Iverson (four) as the only players in league annals to win at least four scoring titles.  He shot .503 from the field, .391 from three-point range, and .873 from the free throw line, leading all players in free throws made (703) and attempted (805).  Durant authored two 50-point games, topped the 40-point mark on 14 occasions, and turned in 17 games with at least 30 points and 10 rebounds.
James shot a career-high 56.7 percent from the field this season, marking the seventh consecutive season he has improved his field goal percentage.  He connected on 116 three-point field goals, the second straight season he has made over 100 three-point field goals while shooting at least 55 percent from the field.  He posted his ninth 2000-point season, becoming only the fourth player in NBA history to accomplish this feat, joining Karl Malone (12), Michael Jordan (11) and Kareem Abdul-Jabbar (9).
Noah, who appeared in 80 of Chicago's 82 games, ranked sixth in the NBA in rebounding (11.3 rpg), 12th in blocks (1.51 bpg) and added 1.24 steals.  He was one of just three players (Detroit's Andre Drummond and New Orleans' Anthony Davis) to average at least 10.0 rebounds, 1.5 blocks and 1.2 steals.  Behind Noah, the Bulls held opponents to a .430 field goal percentage, second-stingiest in the league.
Paul led the NBA in assists (10.7 apg) and steals (2.48 spg), while averaging 19.1 points and 4.3 rebounds as the Clippers won a franchise-record 57 games.  Paul became the seventh player in NBA history to top the 6,000-assist plateau before the end of his ninth season.  He's only the fourth player in NBA history to reach 6,000 assists before his 29th birthday, joining Magic Johnson, Isiah Thomas and John Stockton.
Harden finished fifth in the NBA in scoring (25.4 ppg), and added 6.1 assists and 4.7 rebounds. He was one of only two players (LeBron James) to average at least 25.0 points, 6.0 assists and 4.0 rebounds.  He finished second in the NBA in free throws made (576), topped the 30-point mark in 24 games and registered two 40-plus outings.  Harden also ranked fifth in the NBA in minutes (38.0 mpg).
The All-NBA Second Team consists of guards Tony Parker of the San Antonio Spurs and Stephen Curry of the Golden State Warriors, forwards Blake Griffin of the Clippers and Kevin Love of the Minnesota Timberwolves and center Dwight Howard of the Rockets.
The All-NBA Third Team includes the Portland Trail Blazers' Damian Lillard and the Phoenix Suns' Goran Dragic at guard, the Indiana Pacers' Paul George and the Trail Blazers' LaMarcus Aldridge at forward and the Charlotte Hornets' Al Jefferson at center.
For the first time this season, complete media voting results for each NBA annual award will be posted on nba.com/official following the announcement of each winner.  The All-NBA Teams were chosen by a panel of 125 sportswriters and broadcasters throughout the United States and Canada.  The media voted for All-NBA First, Second and Third Teams by position with points awarded on a 5-3-1 basis.  Below are the results of the voting for the 2013-14 All-NBA Teams, with First Team votes in parentheses.  The balloting was tabulated by the independent accounting firm of Ernst & Young LLP.
2013-14 ALL-NBA FIRST TEAM
Position                             Player, Team (1st Team Votes)                   Points
Forward                             Kevin Durant, Oklahoma City (125)                         625
Forward                             LeBron James, Miami (124)                                       623
CENTER                          JOAKIM NOAH, CHICAGO (101)                  551
Guard                                James Harden, Houston (73)                                     502
Guard                                Chris Paul, L.A. Clippers (86)                                     540
2013-14 ALL-NBA SECOND TEAM
Position                       Player, Team (1st Team Votes)                            Points
Forward                             Blake Griffin, L.A. Clippers (5)                             350
Forward                             Kevin Love, Minnesota (2)                                    237
Center                                Dwight Howard, Houston (9)                                 226
Guard                                Stephen Curry, Golden State (65)                          489
Guard                                Tony Parker, San Antonio (14)                              210
2013-14 ALL-NBA THIRD TEAM
Position                          Player, Team (1st Team Votes)                    Points
Forward                             Paul George, Indiana (4)                                        171
Forward                             LaMarcus Aldridge, Portland (2)                          159
Center                                Al Jefferson, Charlotte (4)                                       191
Guard                                Goran Dragic, Phoenix (1)                                        115
Guard                                Damian Lillard, Portland (2)                                    115
Other players receiving votes, with point totals: Carmelo Anthony, New York,86 (1 First Team vote); John Wall, Washington, 70; Tim Duncan, San Antonio, 63 (1); DeMar DeRozan, Toronto, 56; Anthony Davis, New Orleans, 40 (1); Dirk Nowitzki, Dallas, 37 (1); Russell Westbrook, Oklahoma City, 32 (1); Kyle Lowry, Toronto, 29; DeAndre Jordan, L.A. Clippers, 21; Roy Hibbert, Indiana, 17; Marc Gasol, Memphis, 16 (2); DeMarcus Cousins, Sacramento, 14 (1); Kyrie Irving, Cleveland, 7; Dwyane Wade, Miami, 6; Mike Conley, Memphis, 4; Serge Ibaka, Oklahoma City, 4; Zach Randolph, Memphis, 4; Joe Johnson, Brooklyn, 4; Lance Stephenson, Indiana, 3; Ty Lawson, Denver, 2; Paul Millsap, Atlanta, 2; Chris Bosh, Miami, 1; Andre Drummond, Detroit, 1; Monta Ellis, Dallas, 1; Kawhi Leonard, San Antonio, 1.