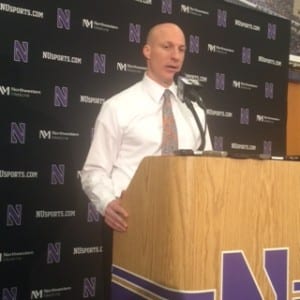 Familiarity was running rampant thru Welsh-Ryan Arena on Wednesday night as the Northwestern Wildcats took on their neighbors to the south, the University of Illinois Illini.
The familiarity vibe could have been attributed to the game, as the Cats and Illini were meeting up for the 170th time… with Illinois holding a commanding 130 – 39 lead in the series.
Or…
The yearly meeting in Evanston when households are split because Mom went to NU and Dad went to U of I… and no matter who wins, Dad will be sleeping on the couch tonight.
The above were all expected events but running into 2 high school teammates at the same game, one who played for the Cats (Jeff Ryan) and the other who now has a cat (Paul Shaer)… was something new but felt familiar all at the same time.
The last familiar sight was the final tally on the scoreboard, as Illinois was able to pull away from NU for the win.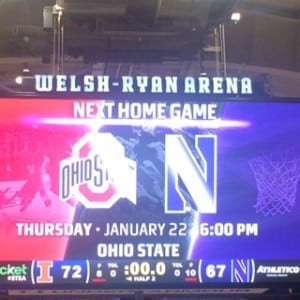 The first half was very sloppy by NU as they turned the ball over 6 times but it felt like 20 because they gave away their early 5 point lead. Bryant McIntosh and Alex Olah were the only bright spots for the Cats all night as McIntosh dropped 16 points while adding 2 dimes. Olah filled the stat sheet with 14 points, 12 rebounds, 4 assists and 3 blocks.
Illinois' back court came out on fire as Aaron Crosby and Kendrick Nunn combined for 27 of the Illini's 37 first half points while shooting 7 – 13 from 3 point land. Crosby and Nunn's shooting help Illinois establish a 37 – 33 lead over the home team.
Northwestern made a valiant effort at the end of the game but came up short as Malcolm Hill hit 2 free throws to put the game out of reach. Illinois took some terrible shots and took their foot off the gas towards the end of the game but were able to squeak by with a 5 point victory.
"That's life in the Big Ten… you play tough hard fought games, they come down to a possession here and a possession there and that is what it was again. It was 1 point game with 4 sec to go and Nunn walks up to makes four big free throws. Got to give them credit but we got to move forward," Coach Collins said after his team's lose to Illinois. "It's about finding ways to win and that is the next step for us as a team."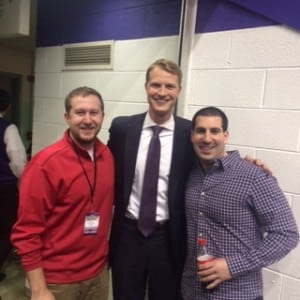 The Cats finished with 11 turnovers and Illinois was able to capitalize with 14 points off of those TOs. For NU fans, the inconsistent play from their team has been frustrating because this team has potential to win these close contests.
Paul commented after the game that we should call up Luke Holthaus and Kevin Bulger to run fives against this Northwestern team. I believe he was being factious but his point was made, as it is obvious Chris Collins has some work to do if his team is going to pick up another win in the conference soon.
The Cats dropped their 3rd straight game and head to Ann Arbor on the 17th for their next game against the Michigan Wolverines (10-7, 3-2).
Coach Collins talks about the Illinois Northwestern game and how his team is coming up short 
@WesEvans24
Podcast: Play in new window | Download