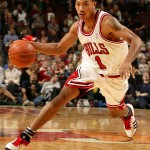 from the NBA
-Chicago Bulls' Derrick Rose selected to his third straight All-Star Game; third overall in All-Star voting
NEW YORK, Feb. 2, 2012 – Orlando Magic center Dwight Howard, winner of the last three Kia NBA Defensive Player of the Year awards, is this year's leading vote-getter in the 2012 NBA All-Star Balloting program presented by Sprint with 1,600,390 votes. Los Angeles Lakers guard Kobe Bryant, a four-time All-Star MVP (2002, 2007, 2009, and 2011), is the leading vote-getter in the Western Conference with 1,555,479 votes. Bryant ties Jerry West, Karl Malone, and Shaquille O'Neal for the most consecutive All-Star nods in NBA history with 14.
The 2012 NBA All-Star Game, which will air live at 8 p.m. ET on TNT and ESPN Radio in the U.S., and reach fans in more than 200 countries and territories in more than 40 languages, will be played at Amway Center in Orlando on Sunday, Feb. 26, 2012.
Joining Howard in the Eastern Conference starting lineup at the forward position are the Miami Heat's LeBron James (1,360,680), the 2006 and 2008 All-Star Game MVP, and the New York Knicks' Carmelo Anthony (1,041,290). The starters for the East at guard are the Chicago Bulls' Derrick Rose (1,514,723) and the Heat's Dwyane Wade (1,334,223), the 2010 All-Star Game MVP.
Bryant, who joins Hall of Famer Bob Pettit (1956, 1958, 1959 and 1962) as the only four-time All-Star Game MVPs in NBA history, is joined in the Western Conference starting backcourt by the Los Angeles Clippers' Chris Paul (1,138,743). The Oklahoma City Thunder's Kevin Durant (1,345,566) and the Clippers' Blake Griffin (876,451), making his first All-Star Game start, are the starting forwards. The Lakers' Andrew Bynum, a first-time All-Star, gets the nod at center (1,051,945). This marks the first time since 1997 (Houston's Hakeem Olajuwon and Charles Barkley, and Seattle's Shawn Kemp and Gary Payton) that two pair of teammates have been voted to start for one conference.
please visit the NBA All-Game Web Site