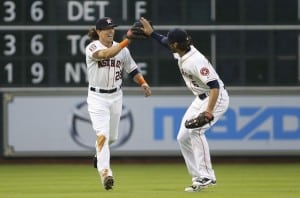 You can usually pencil these Houston Astros, of the new American League variety, to finish dead-last or at least close to it, but these down years have potentially given them hope to build a solid core for the future. While you have to be an absolute seam-head to follow the MLB Draft in the present tense, looking at what Houston has done in the first round of the draft lately reminds us that the Astros scouting department has done their jobs, as many of their first round picks are contributing at the big league level, though it hasn't shown the greatest results, as of now. Keep in mind though, the 2014 Astros didn't finish last; not in all of baseball, not in the American League West, and not even in the state of Texas, with the Rangers finishing three games worse in the Won-Loss column at 67-95.
Now, the Astros may not be anyone's first choice of fodder for conversation when looking at the game in a league-wide scope, but if I've discovered anything in the years I've had every game (sans the local team) at my finger-tips with MLB.tv, it's that I can appreciate the game more by getting deeper than just the contenders, my favorite team (the Cleveland Indians), and the home team (for me, the Arizona Diamondbacks). Look at teams like Pittsburgh, Kansas City, and Washington, currently relevant teams that were left for dead on a national scale just a few years back. They built through the draft with the occasional trade for propsects, and developed contenders.
Jeff Luhnow replaced Ed Wade as the team's general manager following the 2011 season, after winning the World Series in St. Louis as the Cardinals' VP of Baseball Development. It may be a little while before we see what his top picks Carlos Correa and Mark Appel are capable of when they reach the bigs, but he already had George Springer in the system when he got the gig.  He was also able to inherit Jose Altuve, who is a two-time All-Star and most definitely the face of the franchise, but had to dump the salaries of the likes of Michael Bourn and Hunter Pence, among others in the wake of an ownership change and a migration to the American League. The transition has been rough, with the club failing to win even 60 games for three consecutive seasons, before winning 70 in Bo Porter's final season at the helm last year.
So, on to 2015, and it's AJ Hinch replacing Porter as the manager, Hinch's second go-around as a skipper. He was 89-123 in his year and half leading the Arizona Diamondbacks. The line between the present and the future is starting to blur a little, as Dallas Kuechel has assumed his role as the team's ace, a year after a breakout season that saw him go 12-9 on a pretty bad Houston team, and 2011 first-round pick (11th overall) George Springer has become the team's everyday right fielder. Early on in the season, it looks like Jake Marisnick (24 years old) and Jason Castro (28) are figuring things out offensively, picking up where the usual suspects aren't getting it done.
Considering the extremely small sample size, and hey, it's all we have to go on right now, no one is popping champagne over the fact that the Astros sit atop the AL West at the moment, tied with Seattle at 3 wins and 3 losses, but it sure beats getting buried in the cellar 8 days into the season. Of course, they've done it without leaving the state of Texas, though that may be neither here nor there in the long run, but if they can stay anywhere near .500 when they venture out to the rest of the lower 48, they would be just fine. Problem is, they won't.
Their pitching staff has been fine. Kuechel got them started off right with a gem against Cleveland on Opening Day, holding the Indians scoreless with just 3 hits in seven innings of work. He gave Hinch another seven in Arlington on Sunday, but left with a 1.29 ERA and a no decision in a game that wasn't decided until after the 'Stros put up a 2-spot in the top of the fourteenth. Behind him in the rotation, Scott Feldman, Collin McHugh, and Roberto "Fausto" Hernandez all boast ERAs under 2 through their first start. The bullpen hasn't been perfect, though we've seen Sam Deduno, Will Harris, and Luke Gregerson give Hinch some really good innings. Again, this staff has either overachieved or shown promise for what's to come, 14 earned runs over 6 games is something to smile about down in those parts.
The team has won three games, but you could argue they stole two of them, barely getting it done with the bats. Altuve might have single-handedly sent the 43,753 in attendance home happy, simply by creating a run in a game where they were coming at an absolute premium. He broke Corey Kluber's groove, breaking Kluber's streak of setting down 10 consecutive batters, with a 2-out liner to left. Springer was up next, and knocked one through the hole, giving Houston all they'd need to beat the visiting Indians on Monday. The Astros won 2-0, scoring their second run on Marisnick's sacrifice fly an inning later.
Thus far, Jake Marisnick has been a nice surprise. He's played in 5 games and he's batting .400, but even if we ignore early season batting averages (and we do, almost all of the time), but the Astros are 3-0 when he drives in a run and 0-2 when he does not. We're talking about a guy who had 19 driven in all of last season. Looking at OPS (On-Base Percentage + Slugging Percentage) alone, Jason Castro has show decent enough plate discipline for a .429 OBP (On-Base Percentage) and you've got high slugging percentages from Colby Rasmus and Jed Lowrie, thanks to extra base-hits and the long-ball.
Lowrie's first jack, a ninth inning shot off Cleveland's Nick Hagadone on Thursday afternoon, was the team's first of the day off Indians pitching, and it would end up being the only one they'd get in a 5-1 defeat, after mustering up just four off of Carlos Carrasco and the Cleveland bullpen in a shutout the day before. They managed 11 base-knocks against the Rangers on Saturday, but the timely hitting was nowhere to be found with runners in scoring position, and they were 1-for-7 at the plate in those situations, losing the game 6-2.
Maybe the abberation hasn't been them stealing those games. Maybe they're actually better than their record right now, and the real Astros will reveal themselves when a few key players start hitting. Despite his Opening Day heroics, Altuve is hitting .192 through 28 plate appearances. Springer is at .174, but we'll count on him to come around. Luis Valbuena is at .143, and we won't count on him to improve. Instead, we'll wonder how shallow the talent pool is at third base that we keep seeing this guy in Opening Day lineups. Chris Carter, their big bat, has one hit, a single in 5 games; batting average reads .053 in the present tense. Then there's Evan Gattis, who doesn't have a batting average, pulling the Blutarsky and earning golden sombreros (4 strikeouts) on consecutive nights in the opening series. He has 12 on the season, good for the league lead.
Last Week in Baseball for Everyone Else
The team Gattis left, so he could swing and miss so regularly in Houston, the Atlanta Braves finally dropped one in their sixth contest of the season. How are they getting it done? Nothing jumps off the page at you with the offensive stats, aside from Alberto Callaspo's ridiculous batting average (.538) and Andrelton Simmons getting almost an RBI per game (5). Starting pitching has been adequate too, but games are legitimately shortened when they can throw Jim Johnson at you in the eighth and have Jason Grilli close the door on you in the ninth the way they have thus far.
You have to feel for the people in the Los Angeles market, dealing with this Time Warner/Prime Ticket mess. The only way many of them are seeing the Dodgers play is with a ticket to Chavez Ravine. They're missing Adrian Gonzalez and his .609 batting average that we DO respect. In his first week of action, he's proven to be a tough out, but it hasn't been tough for him to put the ball out of the ballpark with his league-leading 5 bombs. On the other hand, maybe those fans in SoCal were ignorant to the fact the reigning NL MVP and Cy Young winner was beat up in front of a Dodger-centric crowd on Saturday night in Phoenix. Clayton Kershaw is 0-1 with a 5.84 ERA through two starts, but conventional wisdom suggests we'll see improvement there.
The Dodgers' rival in NoCal, the Giants, appear to be geared up for another odd year hibernation. Despite winning World Championships in 2010, 2012, and last season, the year after doesn't seem to go well for the Giants, for whatever reason. The big departure in the off-season was obviously the departure of free agent Pablo Sandoval, and the Giants plan to replace him with Casey McGehee wasn't an awful one, but he hasn't been getting it done for Bruce Bochy just yet. Another notable newcomer, Nori Aoki, has done everything they could have hoped for, hitting safely in every game the team has played, plus playing flawlessly in right field where there's a lot of real estate, at Chase Field and PETCO Park.
Aoki's old team, the Kansas City Royals are rolling. They're 6-0, and they've needed their bullpen in close games. It doesn't matter who goes between the starter and Greg Holland, who has been perfect. In 16+ innings, Royals relievers have not allowed an earned run. Holland hasn't allowed as much as a base-runner en route to his 3 saves, all 3-out deals.
The Tigers went a perfect 6-0 through their first two series of the season, taking out division rivals Minnesota and Cleveland with series sweeps. Back in 2012, the Indians bested the Tigers 10-8 in their season series. Since the beginning of 2013, Detroit is 29-12 against their division rivals to the southeast. Miguel Cabrera made it his personal mission to torment Cleveland in their home-opening series, batting .786 with 11 hits, a double, two home runs, and six RBI in the series against the Tribe.
So much for pace of play, right? On the fourth day of the season, I watched the Reds and Pirates start late, then play four hours anyway, I had a hard time staying awake for that one on a west coast clock, couldn't imagine the die-hards in Cincinnati and Pittsburgh waiting on that one. To me, stalled pace of play makes me think of two teams that go together like you wouldn't believe, especially when it comes to length of games, the Yankees and Red Sox. Friday night saw the two battle it out for almost 7 hours in a 19-inning affair. The Yankees had to erase one-run deficits in the bottom of the ninth, the bottom of the sixteenth, and the bottom of the eighteenth, but ran out of bullets in the bottom of the 19th frame, and lost 6-5.
Finally, a shot out to those who flirted with history. I know we watched David Price and Toronto's Drew Hutchison go late into games, but Sonny Gray was perfect for seven innings against the Rangers at home on Opening Day, the biggest threat we've seen to Bob Feller's infamous lone-standing Opening Day feat, keeping the White Sox hitless on April 16, 1940. It was a 1-0 game.
I know it's hard to get the younger generation turned on to 1-0 games and the thought of this becoming a pitcher's game has to terrify most marketing departments around Major League Baseball, but they are the best games to see. They just are. The long ball is nice, but too many of them spoil the novelty. I don't have a problem with the way pitching dominated baseball's first week of 2015, and though I think the bats will catch up, and soon, the game is better when the pitchers are having all of the fun.