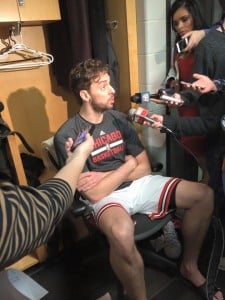 Like most brothers, Pau and Marc Gasol like to compete against one another. After all they have been competing against each other since they can remember and even became the first brothers to start opposite each other in an All Star Game last month.
" We're always competitive, we always compete" Pau would add after the game. The Bulls forward would score 13 points on 6-14 shooting from the field while grabbing 11 rebounds to record his 43rd double-double of the season. Pau has been fantastic for Chicago this season while leading the NBA in double-double's and already trying his career high as well.
Marc would get the best of his brother on Monday night however, when the Grizzlies topped the Bulls 101-91. Marc scored 23 points and added 4 rebounds and 4 assists to guide Memphis to their 21st road victory of the year.
"My teammates found me at the elbows and in the post, and I was able to make some shots," the Grizzlies big man told the media. "That makes their bigs come out and pick up their coverage a bit more. You get confidence. You get in a rhythm."
And as for his thoughts on competing against his younger brother? "It is an honor honestly," Marc said. The two brothers had lunch early Monday before competing for the second time this season.
With the loss, the Bulls tied their season-long losing streak (three games) and continued to rely on their young core to find scoring in the fourth quarter.
Nikola Mirotic scored 18 points of the bench and added 12 rebounds for his fifth double-double of the season. Mirotic has quickly become a fan favorite in Chicago and is becoming a reliable option in only his first season. Mirotic scored in double figures for the sixth straight game and is averaging 20.8 points and 8.0 rebounds during that stretch.
Tony Snell would do his best to bring the Bulls back in the fourth quarter with the Bulls trailing by 13 points. Snell scored 11 of his 21 points in the final period and shot 4-7 from the field in his highest scoring effort since February 12th against Cleveland.
While the Bulls (39-26) would get a boost from their young players,they struggled to find scoring late in the paint. Gasol would admit to being frustrated after being hit with two early fouls and Bulls head coach Tom Thibodeau would touch on that in his post game presser as well.
"I thought he got a tough whistle, I really did" Thibodeau said. "It was his second foul and Marc is a physical player. I just didn't like the consistency, so sometimes it goes your way sometimes it doesn't."
Memphis (45-18) would receive a big third quarter from Zach Randolph who finished with 16 points and 9 rebounds and Jeff Green who finished with 19 points on 7-11 shooting from the floor, including 3-4 from the three point line. With Mondays victory the Grizzlies tied their season series with the Bulls. The road team in the series has now won each of the last five games.
"We have a good group of guys. We all feel like we have a chance to do something special this year," Grizzlies coach David Joerger said. "You try to take care of your body, whether that be nutrition or sleep or staying in at night."
The Bulls will not practice Tuesday morning and will take a much-needed day of rest before traveling to Philadelphia on Wednesday to take on the 76ers. (14-49)
Click below for Post-Game Audio
Podcast: Play in new window | Download