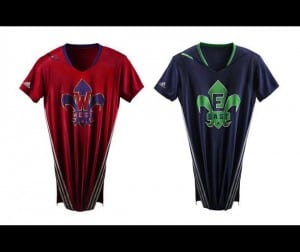 The NBA All-Star Game is supposed to showcase the best talent in the league and reward players who are putting together exceptional seasons. Unfortunately, the 12 most deserving players from each conference are rarely selected to the team, thanks in large part to fan-voting. Before voting concludes on Tuesday, I have put together a roster of the players who should find themselves in New Orleans. The roster I have assembled is based on quality of play rather than a popularity contest. I followed the same selection parameters as the NBA has established. 12 players will be named to each team and I will separate them by frontcourt and backcourt. Here are the players who deserve to wear these god-awful t-shirt jerseys come February 16.
Eastern Conference Starters
Frontcourt: Joakim Noah, LeBron James, Paul George
Backcourt: Dwyane Wade, John Wall
Eastern Conference Reserves
Carmelo Anthony, Chris Bosh, Paul Millsap, Roy Hibbert, DeMar DeRozan, Kyrie Irving, Lance Stephenson
Eastern Conference Snubs
Andre Drummond, Kemba Walker, Luol Deng, Brandon Jennings, Arron Afflalo, Jeff Teague
Tough Decisions
1. Noah starting over Hibbert
One may be surprised to find that Roy Hibbert is averaging just 7.8 rebounds per game, more than three less than Joakim Noah. Noah is having another great year, averaging 11.7 points and 11 rebound per game. While he isn't as good of a low post defender as Hibbert, Noah's tenacity and athleticism has helped the Bulls stay relevant despite losing Derrick Rose and trading Luol Deng.
2. Bosh being selected over Drummond
Andre Drummond is an absolute beast and his development this season should certainly be recognized. However, his play has been inconsistent at times and his team has struggled throughout the year. On the other hand, Bosh is putting up his typical numbers while shouldering more of the load with Wade frequently out of the lineup in Miami. Moreover, Bosh has hit several game winning shots for the Heat this season. Bosh gets the nod this year.
3. John Wall starting over Kyrie Irving
Both players are phenomenal young talents and their numbers are very similar. Irving does average more points per game, but Wall averages more assists and steals. The decision to start Wall over Irving came down to the success of their respective teams to this point in the season. The Wizards are holding on to the fifth seed while Cleveland is struggling to stay relevant in a depressingly inept Eastern Conference.
Western Conference Starters
Frontcourt: LaMarcus Aldridge, Blake Griffin, Kevin Durant
Backcourt: James Harden, Steph Curry
Western Conference Reserves
Kevin Love, Dwight Howard, Anthony Davis, DeMarcus Cousins, Damian Lillard, Mike Conley, Goran Dragic
Western Conference Snubs
Tim Duncan, Dirk Nowitzki, David Lee, Serge Ibaka, Monta Ellis, Ty Lawson, Tony Parker, Russell Westbrook (Injured), Chris Paul (Injured)
Tough Decisions
1. Blake starting over Kevin Love
Love's numbers are plain stupid. He is averaging 25 points and 13 rebounds while shooting nearly 40% from three. Griffin's numbers are not quite as staggering, but they are in the same ballpark. Blake is averaging 22.5 points and 10 rebounds while singlehandedly keeping the poster industry afloat with dunks like this one.
I give Blake the start because he has shown the ability to carry the Clips with CP3 sidelined.
2. Anthony Davis being selected over David Lee
Yes, The Brow missed a few weeks in December due to a broken hand. Still, when on the court, Davis has been fantastic. His numbers are slightly better than David Lee in terms of scoring and rebounding, but the two are truly separated on defense. Davis is becoming a solid all-around defender and is already an exceptional shot blocker. This will be the first of many All-Star Games for The Brow.
3. Mike Conley over Ty Lawson and Tony Parker
The West is flooded with quality point guards. The decision to select Conley over players like Lawson and Parker was based on the success Conley has been able to have despite missing Marc Gasol (Big Spanish) for much of the year. The statistics for many of the "snubbed" guards are similar, but Conley has had to do more with less. Now that they are healthy, I think Conley and the Grizz could go on a big second half run this season.
Follow me on Twitter: @KevinMajor_SRN
Email me at KevinMajorSRN@gmail.com
All videos courtesy of Youtube and the NBA