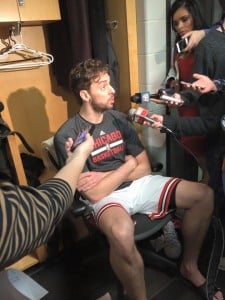 The Chicago Bulls came into Saturdays home matchup against the Boston Celtics short handed and uncertain on who would be in the starting five. Wings Mike Dunleavy and Jimmy Butler both missed Saturdays game but lucky for Chicago, Pau Gasol showed up as usual.
Gasol scored 29 points and added 16 rebounds and 5 blocked shots and reserve forward Nikola Mirotic chipped in ten points and 8 rebounds to help the Bulls escape the Celtics 109-104 in overtime.
Bulls head coach Tom Thibodeau would not name the Bulls starters until about an hour before tipoff and when he finally did it was announced Mirotic would be making his first start at the small forward position.
" I thought overall ( Mirotic) did very well. Thibodeau said after the game. " He didnt shoot the ball great, but he made alot of great plays. He spaced the floor well. He has been working hard in practice and has been developing confidence there. I thought he made alot of good plays to get Pau going too which helped us get established inside."
Besides Mirotic moving over from his original power forward position to make an impact saturday, Gasol was his usual self, playing 38 minutes and shooting 9-16 from the floor.
" ( Pau) is unbelievable. We see it night after night" Thobodeau added. "All the things he does on both sides of the court. He had a 9 blocked shot game, then to follow it up with a 5 blocked shot game. He got many rebounds, and got to the free throw line. The way he plays it gives your team alot of confidence".
In what was a sloppy game by both teams, The Celtics hung around late in the fourth quarter thanks to Chicago native, Evan Turners game high 28 points on 12-20 shooting— including 4-5 from 3 point land. After trading buckets, the Celtics would tie the game at 99 with 2.6 seconds to play off a Jared Sullinger ( 16 points, 13 rebounds) put-back basket. Chicago would call a timeout and draw up a perfectly executed open shot for Aaron Brooks, that would fall just short. Despite the hot shooting of Turner, the Celtics (11-20) would not be able to hang with the Bulls in the extra period.
" We left too many situation points on the floor. We got out-rebounded and I made a mistake and threw the ball away" Turner said when asked what went wrong in overtime. I misjudged Green and Hinrich ran right past it. It was my fault. "
Despite the loss, Celtics head coach Brad Stevens liked what he saw from Turner and the effort his young team put up against one of the Eastern Conferences powerhouse units.
" The best part of ( Turners) game was that he did not have a good first half and he had a great second half" Stevens said in his post game press confrence. " He put us on his backs for a little bit in the second half"
Speaking of putting his team on his back, Gasol, who was once again brillant— has not only become a force on the court, but in the locker room as well. Thibodeau said after the game that Gasol's " actions speak louder than words"
" Pau has been great" Joakim Noah added on saturday. " He has been huge for us all season. He is one of the constants every-night. His offensive game is really big for us."
Through 31 games, Gasol is averaging 18 points, 11.2 rebounds and 2.3 blocks and the Bulls are 24-10 and in first place in the Central. However this season the Bulls have their sights on more than just regular season accolades.
Notes from Saturday nights game…
– Jimmy Butler ( bereavement leave) and Mike Dunleavy ( right ankle) sat out
– Aaron Brooks scored 19 points of the bench. He has now scored in double figures eight of his last ten games.
– With Saturdays win, the Bulls have now won nine of their last 10 overall and eight of their last nine home games.
– Chicago pulled down a season high 24 offensive rebounds and out rebounded the Celtics 59-45.