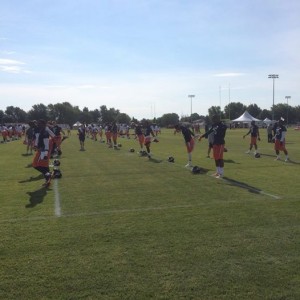 The Chicago Bears spent this offseason adding playmakers on the defensive side of the ball, including the No.14 overall pick in the 2014 NFL Draft, Kyle Fuller, who instantly became a fan favorite on the opening day of practice in Bourbonnais.
Fuller intercepted both Jordan Palmer and Jimmy Clausen during an 11-on-11 scrimmage Friday. However, what was even more impressive was the fact that it was his first day of training camp in the NFL.
" I feel like I handled it pretty well" Fuller said, " Definitely a confidence booster, you have to continue to work hard, and come out here and get better every day"
While it was only the first day of practice, and there were no pads, it was still pretty evident that Fuller will be able to make an immediate impact for a Chicago Bears defense, which already features two, veteran,Pro Bowl caliber defensive backs (Charles Tillman and Tim Jennings).
Another impressive observation about Fuller— was that even when he was not making plays, he was always in good position. The Bears are hoping he will be able to play in the nickel package and move inside and cover the slot.
Some fans were shocked when the Bears did not draft a safety with the 14th overall pick in the draft. However, Fuller showed the same ball-hawking tendencies on Friday that he did at Virginia Tech, where he broke up 34 balls, and had six interceptions, while logging 42 career starts. He was also a team captain at Virgina Tech, where he played on the same team as his brother Corey. ( now with the Lions)
"It was a good start for Kyle," Bears head coach Marc Trestman said."That was a terrific play he made in the first series of the day. The second one we had the wrong route, but he was in the right place and made the play.
Click below to hear Kyle Fuller discuss his first day of practice at Bears
Podcast: Play in new window | Download