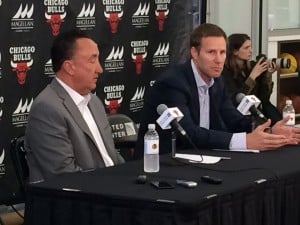 When you look at numbers alone, the Hoiberg hire makes tons of sense.
Though the Bulls had assembled a much better team come start of the 2014/2015 season with
the healthy Derrick Rose,
two promising rookies in McDermott and Mirotic,
the meteoric ascension of Jimmy Butler into a 1B guard,
the addition of the best version of the small, quick, journeyman guard yet under Thibs in Brooks,
and the surprising signing of the best available offensive free agent and double double machine in Pau Gasol (Melo did nothing but play in the All-Star game, Love had a very difficult year, and LeBron really wasn't a free agent, but rather a Cleveland or Miami agent),
somehow the Bulls still struggled to score at times, struggled to rebound for much of the season, and most annoyingly to many fans, led the world in shot clock violations.
Though the Bulls had the star power, the tenacious defense, and a winning percentage of 65 during the regular season over the past five years, they went 23-28 during that same span in the playoffs.
In adding Hoiberg to the mix, who led the Cyclones to three consecutive tourney bid, 23-plus win seasons, scoring an average of 80 points per game over those three seasons, you get the pro-, offensive-minded potential conductor to get the band to play in a fast, fun, and upbeat rhythm (one that leads to an increase in Big Mac consumption within the Chicago metro area).
When you listen to Hoiberg, the hire makes a lot of sense.
When trotted into the Advocate Center and bombarded with questions from the Chicago media, the reserved and young, but subtly nervous Hoiberg had every right answer.
Do you plan to retain any of the current assistants on staff?
With Adrian Griffin hiding in the very back of the gym, hidden from view, and surely some of Hoiberg's staff in Iowa State listening, he responds:
"I wanna try and get accomplished here relatively quickly, but I wanna make sure to get the right guys that are gonna be on board with the way that we're gonna approach things. I have actually met with a couple assistants here already today. I've got relationships with some of them. I played against Adrian…just the way he competed; I think he's terrific. Ed was in Minnesota when I was there. I have a very good relationship with Ed."
At Iowa State, the Cyclones struggled on defense. How do you plan to address that here?
"I wanna get a veteran assistant in here that can really help me through things. Whether it's a head coach or whether he's been around the game for a long time, that's gonna be very important with that hire."
Already up on Thibs, he is looking for help with something he admits in which he is deficient.
He said things like "I love this roster, I absolutely love this roster," instead of "we have enough to get the job done."
He even answered the boldest question of the day with grace:
"Obviously the last five days, it's been pretty much out there as far as where the Bulls stand with the last couple coaches, was there any reservations on your part that there's not a lot of job security here?"
Pregnant pause filled with about a hundred "did he really just say that?" 's floating in the air, he responded calmly,
"I'm not. I'm very confident in my relationship with these guys. I've known them for a long time…I'm very comfortable with my relationship and I'm excited about this moving forward."
When you get a feel for whom Hoiberg is, and whom/what Chicago is, the hire makes a lot of sense.
He introduces his entire family to the Chicago media, his wife and daughter tastefully dressed, his sons with red and blue polos on, buttoned all the way up.
A Midwestern guy who brought a program back to life, he clearly understands what it means to be to always be the dog in the conference of LeBron.
Referencing decisions he makes with his wife, his hometown sweetheart, and talking about how his twins are "coming home" to Chicago, he proves how he's a family man.
Cracking jokes about finding his office, he grabs a laugh from the spectators.
However, the less than funny and happy reality is that the Bulls front office picked a very unfortunate time to make the hire. The source of that misfortune stems from the inevitable comparisons of Hoiberg to the other big-name former Bull coaching in the league right now: Mr. Steve Kerr.
Both turned down a number of coaching offers from other NBA teams while comfortably sitting in their previous positions, waiting from a team on their short lists to give them a call. Both follow a really good, though flawed NBA coach. Both are young, vibrant, and bring character along with run and gun offenses (the deficiencies of their predecessors) to the league.
But he feels like he is able to handle the pressure. Hoiberg cited that taking the job at Iowa State was pressurized, as everybody loved him there, held him in high esteem and thus, likely had high expectations.
"I wouldn't take this job if I wasn't confident."
Kerr is favored to make it all the way to the top of the mountain in his first crack. Will Hoiberg be able to do the same? Or will he achieve only normally in a world completely (and somewhat unfortunately) focused on exceptional results? Will the comparisons eat him and the Bulls front office alive?
Only one thing is certain: Hoiberg looks great on paper.