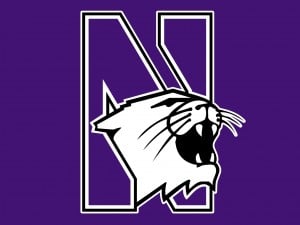 The Northwestern Wildcats fell 39-34 to the visiting Akron Zips on Saturday, bringing them to 1-2 on the season and to a search for in-game consistency.
Northwestern scored quickly off a botched Akron punt but otherwise came out of the gates struggling to get going offensively. The defense, however, played with tenacity and the discipline needed to contain Akron quarterback Kato Nelson. Their coverage was sound, and they kept Nelson from escaping and making plays with his feet, affording the offense the time needed to get going.
The Wildcats' offense got the jump it needed when Clayton Thorson dropped a 43-yard pass into the hands of Kyric McGowan. Three players later, Jeremy Larkin lined up in the wildcat formation and punched it in from five yards out.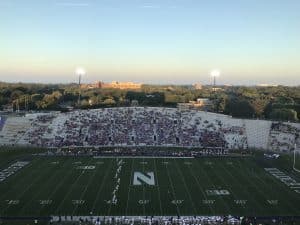 After stymieing an Akron drive sparked by a 43-yard Kato Nelson pass, the Wildcats got the ball back with 38 seconds left in the second quarter. Starting from his own 44, Thorson worked an efficient, 56-yard drive that ended with a strike over the middle to Cam Green. They went into the locker room up 21-3.
Things changed in the second half.
The Zips kicked a field goal and scored a touchdown on their first two drives of the half. Northwestern seemed to have a drive going, but Thorsen, throwing to his left while rolling to his right, sailed a pass to Flynn Nagal right into the hands of Alvin Davis. Davis turned on the jets and went 97 yards for a touchdown and just like that, a 15-point lead shrunk to two.
Linebacker Paddy Fisher commented on the change between halves, saying, "They didn't do anything different. You know, it was on the defense. We didn't play disciplined enough. We didn't play well enough."
The two teams exchanged touchdowns on the next two drives and Northwestern appeared ready to further cement their lead, this time on a drive led by T.J. Green. A missed field goal, however, gave Akron the ball back with 12 minutes in the fourth quarter. Northwestern played soft coverage in response to some of the big plays given up, but Nelson took advantage of that with a dink-and-dunk drive. When Northwestern responded with press coverage, Montre Hartage seemed beat by Kwadarrius Smith, but he made an excellent recovery and broke up the pass, forcing an Akron punt. His gutsy play put the Cats back on offense with a chance for some much-needed insurance.
Hartage's great play would be for moot.
The Wildcats took over with the ball at their own three and got all the way out to the 19 before a sack knocked the ball loose from Thorson. A scramble for the ball finished with an Akron touchdown and the Zips had the lead, 32-28. Northwestern got the ball back with a chance to take back their lead, but a Clayton Thorson pick-six dashed those hopes.
The Wildcats scored late in the fourth to bring themselves within five, but it was too late, and the Zips went home with a 39-34 victory. Akron scored off three turnovers and stopped any shred of second-half momentum from Northwestern. The turnovers took the game out of the hands of the Cats' typically strong defense and made life easier for Akron.
"You lose the turnover battle the way we did, it puts it really difficult, especially when you don't have a chance to go out there and play defense," coach Pat Fitzgerald said postgame.
Nelson finished the game 17-for-28 for two touchdowns and 277 yards, good for an average of 9.9 yards per attempt. Explosive plays were a theme on the night, and it carried over from two weeks ago against Purdue.
"Last week I think it was our inability at the line of scrimmage. right? This week it was turnovers and explosive plays. The Purdue game was explosive plays," Fitzgerald said postgame. "I think there's some themes, yeah, absolutely."
Thorson quietly had a nice night with 383 yards and three touchdowns. His first interception was a result of trying to make a play on fourth down and some bad luck was at play on his second. Regardless, he took responsibility for his performance, saying, "I gotta be better with the ball in my hands… The ball's gonna be in my hands all year and, you know, it can be three times out of… 80-90 plays we run and that's the difference in the game."
Northwestern has a bye week between now and Michigan, meaning they will have extra time to get their bearings straight before the toughest challenge to this point in the season. Saturday night's loss was tough, but it won't affect their Big Ten standings. If they can beat Michigan, the tide will certainly turn in Northwestern's favor.
Twitter: @crbevins11
Hear audio from Pat Fitzgerald, Clayton Thorson, Paddy Fisher and Montre Hartage: