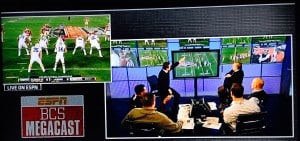 The final BCS Championship game was a game for the ages. Fans who were thrilled and delighted with the down to wire contest won by Florida State 34-31, not just for the action on the field, but for the myriad of viewing choices they had to watch the college title game with their "Megacast."
ESPN offered several different telecasts, as well as web based cameras focused on the two coaches, and viewing parties in the respective college towns.  Viewers who only had the main feed, had to deal with Brent Musburger, and his malaprops. This year, he led off the telecast by introducing himself as his broadcast partner, Kirk Herbstreit.  I do not normally make a habit of hurling negativity at people,  but in Brent's case, I'll make an exception. When is ESPN going to farm him out, or at least get him off the "A" team? I will always remember his contributions to the old CBS NFL Today, and his pro football coverage than the lasting impressions of him fawning all over AJ McCarron's girlfriend on national television.
If you tuned to ESPN2, you could at least skip Musburger. Instead you got to watch the very capable David Pollack, along with a rotating assortment of guest including Johnny Manziel, USC coach Steve Sarkisian, UCLA QB Brett Hundley, and the network's newest hire, Tim Tebow.  They also featured a stream of Twitter comments from a variety of sports and other celebrities.  That was definitely for the younger set and ADHD nation.
An interesting option provided by ESPN Classic was to watch the game with no announcers, and just the stadium sounds and the PA feed that fans at the Rose Bowl got.  Only one problem, at least on my DirecTV broadcast. No high definition picture.  In my book that's a deal killer.  It's not easy to watch low def when you are used to the high quality view of HD.  To add insult to injury, that channel was supposed to broadcast the halftime performances by the FSU and Auburn bands.  Except once again, Bristol, Connecticut engineers threw a monkey wrench at viewers.  It seems that all the commercial breaks were synchronized so that feed cut in and out of the halftime shows.  Somebody should sue them for false marketing.  Band parents or former band geeks got to see part of one song from each school's band.  Shame on you, ESPN!
The best feed to watch was hosted by ESPN News.  Network analysts Tom Luginbill, Chris Speilman, and Matt Millen served as hosts, along with guests Steve Addazio, Boston College's head coach, Paul Chryst of Pittsburgh, and Texas A&M's Kevin Sumlin. The insights provided by the coaches was incredible.  Whether it was predicting the fake field goal, or giving examples of what goes on the sidelines, it was like sitting in the coaches box at the stadium, or joining them in their living rooms watching the game.
If you are an X's and O's fan, this was nirvana. They analyzed the offensive and defensive schemes in ways that Musburger and Herbstreit could only dream about.  They dissected the blocking schemes, the receiver routes, and the pass defense.  They pointed out early on, how Heisman trophy winner Jamies Winston wasn't checking off receivers, something he didn't remedy until the fourth quarter.  They also noted that one of Auburn kick coverage players pulled up lame with a hamstring injury that may have led to the go ahead kick return TD by Florida State.
The coaches discussed how the Auburn defensive line was attacking FSU's offense, and very significantly, the group showed how the Auburn run game was developing by pointing out where the lead blockers were for Auburn's outstanding RB Tre Mason.
Kudos to ESPN for the multi-pronged attack on the senses.  Hopefully they will do some of their own post game analysis and fix the weak spots. Welcome to the 21st century.
Read other stories on the megacast:
Tom Hoffarth – Farther Off the Wall