with Andy Dorf and Fred Wallin
On this edition of Dorf On Sports, Fred  and Andy f talk about Jeremy Lin, the newest star in the NBA and for the New York Knicks. This is truly the best sports story I have ever seen. He has had an impact not only on his team but the entire NBA. We also talk about how weak the Pac-12 is in basketball. In addition they discuss Peyton Manning and his future. Does his legacy continue in Indy, does he take his act somewhere else or does he retire?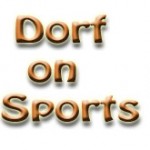 We also catch up with actor, comedian, writer, rapper etc. Tom Green who is at the Tempe Improv this weekend. The guys also take calls from listeners. To be part of the show listen online at 1100kfnx.com Wednesday nights from 9-10pm Arizona Time. Call in at 866-536-1100.
Click to listen
[ti_audio media="2510″]