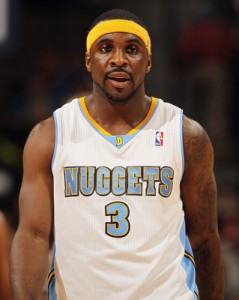 (NEW YORK, March 4, 2012) The Chicago Bulls' Derrick Rose and the Denver Nuggets' Ty Lawson today were named the Eastern and Western Conference Players of the Week, respectively, for games played Monday, Feb. 27, through Sunday, March 4.
Rose led Chicago to a 4-0 week with averages of 28.8 points, 7.5 assists and 1.75 steals. Rose tallied 30-plus points twice, including a high of 35 to close the week on March 4 during a 96-91 win at Philadelphia. With three of their four wins coming away from the United Center, Rose's Bulls own the NBA's best mark on the road at 17-6 (.739).
Lawson led the Nuggets to a 3-0 week with averages of 20.7 points, a Western Conference-best 11.7 assists and 7.0 rebounds. Lawson posted two point-assist double-doubles, including a 22-point, 11-assist, nine-rebound effort on March 4 at San Antonio during a 99-94 Nuggets win. Lawson had just four turnovers on the week.