The DePaul Blue Demons) are ready to step up and lead the Big East"

Coach Doug Bruno, DePaul Blue Demons
Welcome to a new era in Big East athletics.
No more UConn. No more Geno Auriemma.  No more Notre Dame. So long, Hall of Famer Muffet McGraw.
Hello, Coach  Doug Bruno.  You've been crowned.
After sweating  it out year after year for NCAA selection and seeding, the Blue Demons can take it easy on St. Patrick's Day, aka Selection Monday for women's basketball.
In winning the Big East Conference, the Blue Demons also punched their ticket to their 12th consecutive NCAA tournament.
This time, it's an AUTOMATIC bid.
It seems like it's all coming together…finally…for the DePaul Lady Blue Demons. They secured their first Big East regular-season title ever, and enter the NCAA Tournament with a 27-6 record.  They've won 16 of their last 17 games, and are ranked 23/22 in the nation.
"This was one of the best moments of my life," said senior forward Jasmine Penny. "To see us work so hard all season and accomplish this is just amazing."
Going into the Big East Conference tournament as the #1 seed, they battled Georgetown, Marquette, and finally,  #2 seed St. John's to take the Big East Tournament title on March 11. It was the first women's championship game for the realigned Big East since powerhouses Connecticut and Notre Dame departed last year for the American Athletic and Atlantic Coast conferences, respectively.
From the opening tip, the Blue Demons were intent on scoring inside along with attacking the basket. A back-and-forth first half ended with the Blue Demons on top, 30-29.
But as they approached crunch time, DePaul held the Red Storm off, maintained a five-to-seven point lead, until Brittany Hrynko's reverse layup gave DePaul a 53-46 edge with over four minutes to go.
Hrynko was aggressive from the opening tip as if determined to impose her will on this championship game no matter what.
"I came out ready to play," Hrynko said. "I wanted to attack the basket. Once I got into the lane, I was patient looking for my teammates cutting to the basket."
Senior forward Jasmine Penny was voted the tournament's Most Outstanding Player, and junior guard Brittany Hrynko was voted onto the all-tournament team. Megan Rogowski chipped in with 14 points while Megan Podkowa came up big with 12 points, nine rebounds, two steals and two blocks.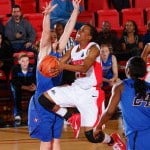 And now…it's time for a party!
Join the DePaul women's basketball team on Monday, March 17 for the NCAA Women's Basketball Selection Special.  Coach Doug Bruno and his team will gather at McGrath-Phillips Arena to watch the selection show on ESPN on DePaul's big screen at 6 p.m. (CT).  The event is open to the public and doors open at 5 p.m.
The selection show party includes food and soda while admission is free. Parking is available for $6 next door to the Sullivan Athletic Center at the 2335 N. Sheffield parking facility. Fans that plan on attending the selection show should RSVP to Katie Ramsey at (773)325-7504 or cramsey1@depaul.edu.