The Cubs entered 2018 with lofty expectations. Adding Yu Darvish and Tyler Chatwood in addition to completely overhauling your bullpen will do that. While Darvish and Chatwood ha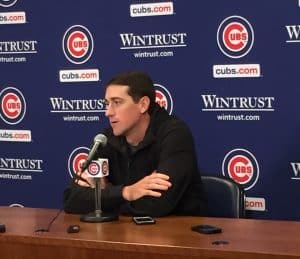 ve disappointed to this point in the season, the Cubs have, for the most part, lived up to their billing as one of the best teams in the National League. They have the second-best team ERA in baseball (Second only to a historically dominant Astros' rotation), the highest team OBP and the third-highest team batting average. More importantly, they've been winning. They have the second-best record in the NL behind the Milwaukee Brewers and are in hot pursuit of overtaking them, having won eight of their last nine entering Sunday. Jon Lester looks like his 2016 self and even said the team as a whole has the same feel as 2016.
The Cubs haven't been bulletproof, however. Unlike 2016, the Cubs' struggles are more apparent and are beyond one bullpen addition. While they've generated hits, they haven't consistently converted on them, leading the MLB in runners left in scoring position per game with 4.18. Their team batting average with runners in scoring position is a lowly .238 with a 22.77% strikeout rate. While on the surface pitching appears to be a strength, there are concerns with the rotation outside Jon Lester.
Kyle Hendricks was expected to be the ace of the Cubs' loaded bullpen, but he entered Sunday with a 4-5 record, a 3.59 ERA and 12 home runs allowed (He allowed 17 all last season). José Quintana has only gone more than six innings twice, and Darvish and Chatwood have been rendered to ineffective.
The Cubs have managed to get away with their struggles on the mound thanks to their ironclad bullpen, a unit that is third in the majors with a 2.34 ERA. It is also a unit that has seen action in every game, as no Cubs pitcher has thrown a complete game this season, with seven-inning performances being a rarity.
"Mentally it was better. Mechanics, I'm just fighting myself," Hendricks said on his share of struggles. "Just not repeating it, so that's really where the problem's at."
With various underlying issues at play, Sunday's game against the Pirates was a culmination of them, and those issues reared their ugly heads from the beginning with a Josh Harrison leadoff home run off Hendricks. Hendricks settled in for the most part after Harrison's home run, allowing only two more hits in five innings of work. With runners at first and second in the bottom of the fifth inning, Tommy La Stella pinch-hit for Hendricks, only to ground into a double play.
"That's part of the game right there," Hendricks said. "Got a chance to get on the board and you got to take it. Unfortunately, it didn't work out but nine times out of ten with Tommy [La Stella] that's gonna work."
The fifth-inning wasn't the Cubs' only chance to take advantage of runners in scoring position. Only down one and with a chance to seize momentum in the bottom of the third inning, they were unable to convert with runners at second and third. In total, the Cubs left five runners on base today, and the offense was absent for much of this series as they only produced six runs in total. Joe Maddon made sure to keep the series win in perspective, though, saying, "Two out of three ain't bad. Anybody that is not into two out of three really needs to evaluate their baseball sensibilities."
He's right. Even with Sunday's loss, the Cubs have played good baseball.
Chili Davis's hitting philosophy has taken time to set in, as should be expected, but its intended results are beginning to take shape: They've averaged 4.7 walks per game since May 6th, 5.4 runs per game since May 5th and, perhaps most surprisingly, Jason Heyward entered Sunday hitting .386 with a .945 OPS in ten games since May 29th. And, above all else, the Cubs have been winning. They are now 12-4 in 16 games since May 25th, good enough for the second-best record in the National League.
If anything, their display of winning games despite struggles is a positive sign; it shows they can win in spite of some poor play. If 12-4 isn't a display of their best baseball, then even greater things should come when that potential is realized.
Twitter: @crbevins11
Hear audio from Joe Maddon, Kyle Hendricks and Anthony Rizzo