Baseball is weird.
Sometimes, one misplayed ball decides a game. Sometimes, a pitcher with a 4.16 lifetime ERA throws a perfect game.
Sunday night's Cubs-Giants game falls firmly into the category of weird.
Whether it was Pablo Sandoval (Yes, that Pablo Sandoval) legging out an infield single fielded by Addison Russell, Sandoval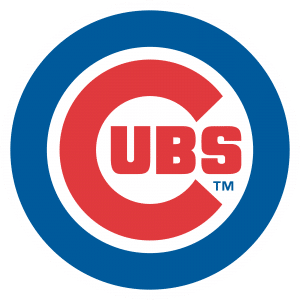 making a diving stop at second base (No, this isn't a prank), or Anthony Rizzo beating the shift by nailing umpire Cory Blaser in the leg, the first inning alone was loaded with a highlight reel of oddities.
Unfortunately for the Cubs, Tyler Chatwood's inability to prevent runners from taking free bases is no longer weird. With Yu Darvish unexpectedly back on the DL, Chatwood took the mound for a balmy Sunday night game at the Friendly Confines.
For a guy brought in as the finishing touch on the masterpiece that was to be the Cubs' bullpen, Chatwood has been anything but reliable. Sure, his spin rate is one of his best-known traits. He was brought in because he had the kind of stuff few MLB pitchers have. Another trait few pitchers have is a walk-rate even close to Chatwood's. Entering Sunday, Chatwood boasted a walk-rate of 7.88 walks per nine innings. The next two highest are held by the Padres' Bryan Mitchell and the White Sox' Lucas Giolito, who sit at 6.86 and 6.80 walks per nine innings, respectively.
So, Tyler Chatwood's early struggles were not met with great surprise on Sunday. 2.2 innings, five walks, three earned runs and three mound visits into the game, his night was done.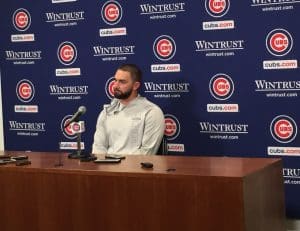 "You just don't know how you're gonna get through that whole thing," Manager Joe Maddon said on Chatwood's outing. "I thought he got a little bit better toward the end… We have work to do, he has work to do. I'm not saying by any means giving up, I really believe in this fella. The stuff is that good."
Chatwood's struggles and the on-field abnormalities meant the Cubs needed a team win. And they got it. Behind RBIs from six different batters, 13 total hits and a shut-down performance from the bullpen, the Cubs navigated through a treacherous beginning  and ended the night with an 8-3 victory. One of the newer faces on the Cubs, Randy Rosario, picked up the win and received specific praise from Maddon.
"This kid threw well a couple days ago when we had him. I liked him in Spring Training, he's done a great job in triple-A this year… We don't win the game without him today."
Sunday's story is not complete, however, without mentioning Javier Báez's excellent performance.
The Cubs tied the score in the first inning and kept it that way entering the bottom of the fourth. The aforementioned Rosario led off the inning with a walk and was advanced to third by a double from Albert Almora Jr. Báez stepped to the plate with an opportunity to leave his impact on the scoreboard.
El Majo did not disappoint.
The beloved infielder put the energy back into a distraught Wrigley crowd by sending a home run into the right-field bleachers, rounding the bases and entering the dugout to the tune of a thunderous chant of "JAVY! JAVY! JAVY!" The 25-year-old retook the National League lead in RBIs with a season total of 42, and now has a slash line of .266/.298/.574. When asked about retaking the RBI lead, Báez shed his flashy on-field persona and remained humble about the feat.
"To be honest, I'm just trying to stay away from [focusing on stats]. Every time I play with my stats I get in a slump," he said postgame. "It's still a long season, you know, we'll see how numbers are in September and October.
"If you watched him in batting practice, he was just killing the right side of the field," Maddon said on Báez's performance. "If he can just stay with that mentality all the time there's no telling how good he could be at the plate."
It's almost June and the Cubs are still in search for consistency. Perhaps Sunday's battle through adversity is the spark they needed to become the machine they were expected to be.
Hear audio from Joe Maddon, Tyler Chatwood and Javier Báez.
Twitter: @crbevins11