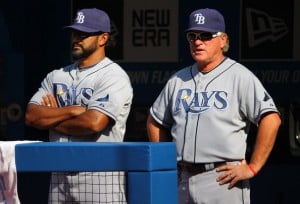 CHICAGO – The Chicago Cubs today named Dave Martinez as the club's major league bench coach and shifted Brandon Hyde to first base coach.  Additionally, Henry Blanco has been named the club's major league quality assurance coach.  Doug Dascenzo, who had been named first base coach on October 9, will remain in the organization as outfield and baserunning coordinator with responsibilities in the major and minor leagues.
Today's announcement completes manager Joe Maddon's coaching staff for the 2015 campaign: Chris Bosio (pitching coach), Brandon Hyde (first base coach), Gary Jones (third base coach), John Mallee (hitting coach), Dave Martinez (bench coach), Lester Strode (bullpen coach), Mike Borzello (catching and strategy coach), Eric Hinske (assistant hitting coach), Henry Blanco (quality assurance coach) and Franklin Font (staff assistant).
Martinez, 50, served as Joe Maddon's bench coach in Tampa Bay the last seven seasons and today returns to the organization that originally drafted him in the third round of the 1983 Draft.  Martinez first served as a spring training coach for Maddon in 2006 and 2007 before being named to the big league staff on October 11, 2007.
A former outfielder, Martinez played 16 seasons in the big leagues with nine teams: the Cubs (1986-88, 2000), Montreal (1988-91), Cincinnati (1992), San Francisco (1993-94), the White Sox (1995-97), Tampa Bay (1998-2000), Texas (2000), Toronto (2000) and Atlanta (2001).  He batted .276 with 91 homers and 580 RBI in 1,919 major league games.
Blanco, 43, last year completed a 25-year professional catching career when he retired with the Arizona Diamondbacks at the end of spring training and immediately joined the club's big league coaching staff as an assistant.   He spent four seasons with the Cubs, helping the club to consecutive National League Central titles in 2007 and 2008.
Overall, Blanco played in 971 major league games covering 16 seasons and 11 teams: Los Angeles Dodgers (1997), Colorado (1999), Milwaukee (2000-01), Atlanta (2002-03), Minnesota (2004), the Cubs (2005-08), San Diego (2009), the New York Mets (2010), Arizona (2011-12), Toronto (2013) and Seattle (2013), finishing his career with a .223 batting average, 145 doubles, 72 home runs and 298 RBI.
(from newswire reports)