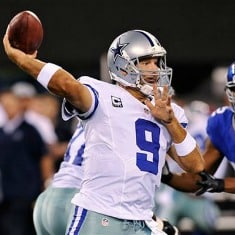 0.8%.
This is not the change in the unemployment rate for the US or the percentage of run plays Marc Trestman called in the Bears 34 – 17 loss to the Lions on Thanksgiving. It is the odds the Bears have in making the playoff this year per SportsClubStats.com.
So you're saying there's a chance!
No… that's not at all what I am saying. The math may not have officially eliminated the Bears from playoff contention but it is time to put this team and their fans out of their misery. The writing has been on the wall for weeks and it will be the Cowboys who should "mathematically" end the Bears season.
The Cowboys are coming off a humiliating performance of their own on Thanksgiving Day, losing 33 – 10 at home to the Eagles. Tony Romo had a game for forget as he was 18-29 for 199 yards with 2 interceptions and no TDs. It was the first time Romo didn't throw a TD pass since September of 2012.
"I think, if you're good enough player usually you just put your head down and go to work and get better for the next game," said Romo, as his Cowboys are sitting at 8 – 4,  and are looking to right the ship.
We all know who plays UNICEF for struggling teams needing a confidence booster. A slump buster if you will…
Da' Bears.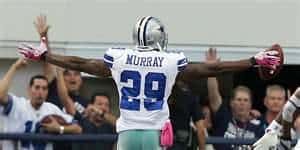 Dallas comes to town with the NFL's leading rusher in DeMarco Murray, who's 1427 yards, is 381 yards more than the next closest rusher. Murray has rushed for at least 100 yards in 10 of 12 games and has 8 TDs on the year. Murray averages 24 carries a game which Matt Forte has only done once this entire year.
The Bears will be defending another big named wide receiver this week as Dez Bryant comes in with 67 receptions, 952 yards and 10 TDs. Bryant has an opportunity to have a monster day if the Bears have to put eight in the box to slow down Murray.
The Bears are sitting at 5 – 7 and will use the rest of the season to determine who will be around next year. That includes 2nd year Coach Marc Trestman, who appears to be overwhelmed with coaching in the NFL and will be trying to save his job.
I expect to see a lot of Brock Vereen, Will Sutton and Ego Ferguson in the upcoming weeks since the Bears have 4 extra games to analyze their 2014 draft picks.
Bostic, Bushrod, Cutler and Trestman talk about the Cowboys-Bears game and the need for a balanced offense
Key Matchup: DeMarco Murray vs. the Bears front 7
Key Injuries: WR Alshon Jeffery (Quest.), K Robbie Gould (Quest.), LB Lance Briggs (Out)
Fact: 500 – 1 odds for the Bears to win the Super Bowl
Prediction: Cowboys 31, Bears 20
@WesEvans24
Podcast: Play in new window | Download