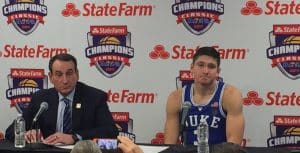 Basketball royalty once again descended upon Chicago. Unlike college football, which rarely had early season matchups between elite programs, college basketball delights in titanic clashes in November and December. The 2017 State Farm Champions Classic had a very tasty doubleheader on tap with preseason number one Duke taking on second ranked Michigan State. That was the main course, and for dessert, fourth ranked Kansas squared off against Kentucky.
In the opener, Grayson Allen, who had ninety more games under his belt than any of the four other starters on his team, had a record scoring night with 37 points in what coach Mike Krzyzewski called, "not just good, he was fantastic tonight."  Grayson shrugged it off, complementing the passing of point guard Trevon Duval. "When I get a few open looks, the basket get bigger."
An errant poke in the eye sent top NBA prospect Marvin Bagley III to the bench. It didn't phase the Blue Devil attack one bit, as Duke appeared to be command and in control most of the the game. They sat back in the 2-3 zone and dared the Spartans to shoot over them. Despite that, the outcome wasn't sealed until the final minute of play. Duval was also one of the Duke standouts with 17 points and 10 assists, as he made some great passes and showed a real aptitude for driving to the basket. A trio of Spartans, Jaren Jackson, Miles Bridges, and Nick Ward each poured in 19 points
In second course of this basketball buffet Kansas clawed out a hard fought win over Kentucky, who started four freshmen and a sophomore. By Jayhawks boasted a starting lineup of two seniors, two juniors, and a second year player. One of those upperclassmen, Ukrainian Svi Mykhailiuk, led his team with 17 points. Kentucky's highly touted freshman Kevin Knox led all scorers with 20. Neither team seemed to control this contest, which wasn't decided until the final seven seconds.  The Jayhawks experience was evident in their passing and control game.  The Wildcats were more athletic, but at times the inexperience led to errant passes and missed shots.
Hear from Coach K, Grayson Allen, and Tom Izzo