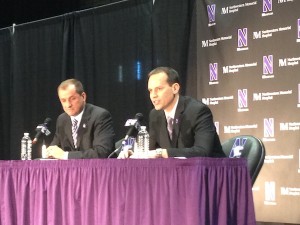 New Northwestern basketball coach Chris Collins has had a large shadow cast over him all his life, that of his six-foot, eight inch dad, Doug.  The current coach of the Philadelphia 76ers and a first overall selection in the 1973 NBA draft, finally took a back seat to his son Chris, a prep star at suburban Chicago Glenbrook North and Duke basketball player.
Doug Collins was quick to point out, "people don't realize all the places that Chris has been.  They don't stop to think that he went to Finland to play professionally, for a year. He coached with Nancy Lieberman in the WNBA, and with Tommy Amaker at Seaton Hall for three years."  He added, "Chris has learned a lot from me along the way," noting how even this season, his team had not achieved its expectations, and he's imparted that wisdom to his son.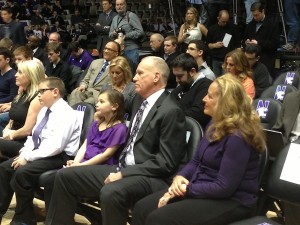 The Wildcat's newest coach says, "part of me wanted to work hard to create my own name. So as I was coaching and being at a place like Duke, where it's prepared me in every way to be a part of this.  To come to Northwestern, and be able to make this my own, it just was an exciting, exciting challenge." A challenge it will certainly be, considering the Wildcats have never been invited to the big dance. Furthermore, they play in a small building that usually has more visiting fans than home fans in Big Ten conference play.
"I know it's a lot of hard work. But Part of it too, is getting out there and getting excitement into this program, and having be a new energy, a new beginning, and getting on campus, and getting the students excited about it.  If we do that and get these seats filled, it can be a heck of a home court advantage.   You get eight plus thousand people in here, going crazy cheering, right on top of the players. It can be a tough place to play." Not unlike Cameron Indoor Stadium, where he toiled as an assistant to Duke's Mike Krzyzewski for seventeen years.
Recalling his early memories of being in Chicago, Collins recalled being a Bulls ball boy and watching Michael Jordan at team practices, who had to win every ball drill, every scrimmage.  "I'm competitive guy, "he notes. "I'm passionate about what I do, and I want to create a culture of those same qualities."
Perhaps this is the catalyst that Northwestern needs to generate the same excitement that Pat Fitzgerald has been able to bring to Ryan Field. There are a lot of similarities between the two. However, Collins inherits a team that been in reverse the past few seasons, going 13-19 in 2012, with only four conference wins.
Listen to Chris Collins' Q&A with the media. (not the over the air press conference.)
[jwplayer mediaid="8518″]