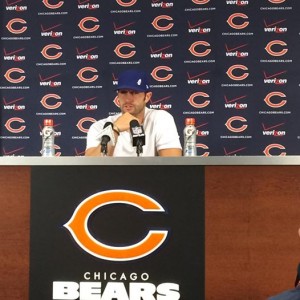 Two down, two to go.
That's what the Chicago Bears have to be telling themselves after Thursday night's 20-19 win over the Jacksonville Jaguars. The team looked flat and (excluding the rookies and guys trying to earn a place on the roster) at times, disinterested.
For the second straight week the Bears (2-0), could not establish the run early in the game. Matt Forte carried the ball four times, but once again could not find any daylight. He has now carried seven times for negative 7 yards total this preseason, Head coach Marc Trestman acknowledged the early struggles.
"We have not been productive running the ball," Trestman admitted "We have had more productive runs with the second teamer's and thirds than we did with the first. We are working hard on it everyday."
One reason Forte may be struggling to find holes, could be because the offensive line has not been intact since training camp began. Kyle Long battled a viral infection, Martellus Bennet made his return this past week after a short suspension, and Jordan Mills sat out for the second straight game with a foot injury. Mills had surgery on the metatarsal in his left foot in January.
Jay Cutler got things going after a shaky start for the offense, completing 7-9 passes for 75 yards including a four yard touchdown strike to Brandon Marshall in the second quarter before exiting the game in the second quarter.
"It was different, we had a three-and-out and then got back on the field with only thirty seconds," Cutler said (when asked about only running five total offensive plays in the first quarter.) "We overcame a couple third downs there in the second quarter and got a little bit of a rhythm going so that was good."
Defensively, the Bears looked sluggish at times, allowing Chad Henne and (No. 3 overall selection in the 2014 NFL Draft) Blake Bortles to pick apart their zone defense. Second year linebacker Jon Bostic was one bright spot, he rocked Jacksonville running back Toby Gerhart for a 4-yard loss on a third-and-1 play in the first quarter. Cornerback Sherrick McManis also continued to be around the ball, and make plays again, after his strong showing week 1 of the preseason against the Philadelphia Eagles.
Preseason Game Two notes
– Every team's main goal in the preseason is usually to begin week one of the regular season healthy. The Bears are hoping that will be the case for them this season. Rookie cornerback Kyle Fuller left the game in the first quarter with a ankle injury, while last weeks star, tight end Zach Miller also left the game early with a foot injury. Head coach Marc Trestman told the media after the game that " both guys were being evaluated tonight, and he will know more tomorrow"
– Devin Hester will be like an old girlfriend who you didn't appreciate, until she was gone for the Bears this season. Hester may not have been the explosive player he was in his first few seasons in Chicago, and he sure struggled to learn a playbook, but at least he would give you decent field position and scare teams to kick away from him. The Bears struggled to establish who will be returning kicks/punts for them this season again against Jacksonville. Eric Weems fumbled on a kickoff return, while Chris Williams continues to miss time with a hamstring injury. the Bears better find someone quick, as good as they are, and as many weapons as they have on offense its hard to put points on the board when you are starting on your own 18 yard line every possession.
– Jimmy Clausen looks like the clear-cut favorite to win the backup job. Jimmy wasn't nearly as impressive as he was last week, completing 11-15 passes for 94 yards and an interception, but bad communication could have been reasoning behind the mistakes.
"We had miscommunication with the headsets" Clausen admitted." They were cutting in and out. We got that fixed"
Don't count Jordan Palmer out of the race yet however. Palmer completed 6-9 attempts for 73 yards and more importantly led the game winning drive in the fourth quarter. With the third preseason game usually serving as a dress rehearsal for week 1, expect Jay Cutler to play the whole first half in Seattle next Friday, therefore no decision will most likely be made until after the final preseason game when Palmer and Clausen will play the majority of the game.
Click below to hear comments from Jay Cutler and Marc Trestman after Thursdays game.
Podcast: Play in new window | Download