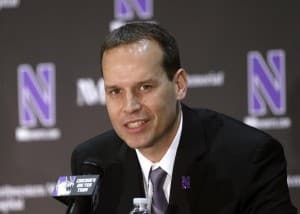 Although Chris Collins has yet to coach his first game for Northwestern, the Wildcats coach and Chicago native has certainly brought excitement back to Evanston.
"I know you've got to have the results, too," Collins said. "It's nice to have the buzz and the excitement, but at some point, you have to get on the floor and play. I understand that, and I'm looking forward to that."
Collins, the son of former NBA player and coach Doug Collins, has served as an assistant for Mike Krzyzewski at Duke, for the last 13 years and was also a player there .
Northwestern will run a similar offense that Collins ran at Duke by emphasizing moving without the ball, which should benefit the Wildcats improved perimeter players JerShon Cobb and Drew Crawford.
"It's a greater energy around the program," Crawford said. "It's great to be back playing with my teammates again for one more year. And great to play under a new coaching staff. We're really excited about this new era we have going, and there's great energy around the program and we're working hard in practice every day. It's enjoyable."
Running the show for the Wildcats will be junior point guard Dave Sobolewski, who said he spent the offseason " working on his body and getting in better shape"
Collins has the university looking forward to more than just this season. Vic Law, one of the areas top players, has already committed to play for Northwestern next year and will lead one of the most impressive recruiting classes in school history.
"We're trying to build a program," Collins told the media. "It's not about just having a team that's good in one season. So what we're trying to do is lay a foundation for everything — how we train, how we practice, how we treat each other — and that's when you start developing a culture, a winning culture
It will not be easy for Collins and company. Northwestern has never played in an NCAA Tournament, but with the return of Drew Crawford, Collins believes they are headed in the right direction
"It's been a huge thing for our program to have a guy, a fifth-year guy who's played in that many games, to be back and kinda help us as we start this thing ," Collins said. "He'll be the key anchor that gets us going here this year."
Although the future is uncertain, one thing is for sure at Northwestern, Collins will bring excitement and change to a program that has desperately needed it.
Click below to hear highlights from the Northwestern Wildcats media day.
Podcast: Play in new window | Download