UNC point guard Coby White is making his first long term foray outside of his home state. White didn't have to go far from his Wilson, North Carolina home to join the Tar Heels. The city of nearly fifty thousand people was once a major center for tobacco cultivation. Now it's better known for Interstate 95, a major north-south route along the eastern seaboard, and as the birthplace of Julius Peppers, another illustrious UNC alum.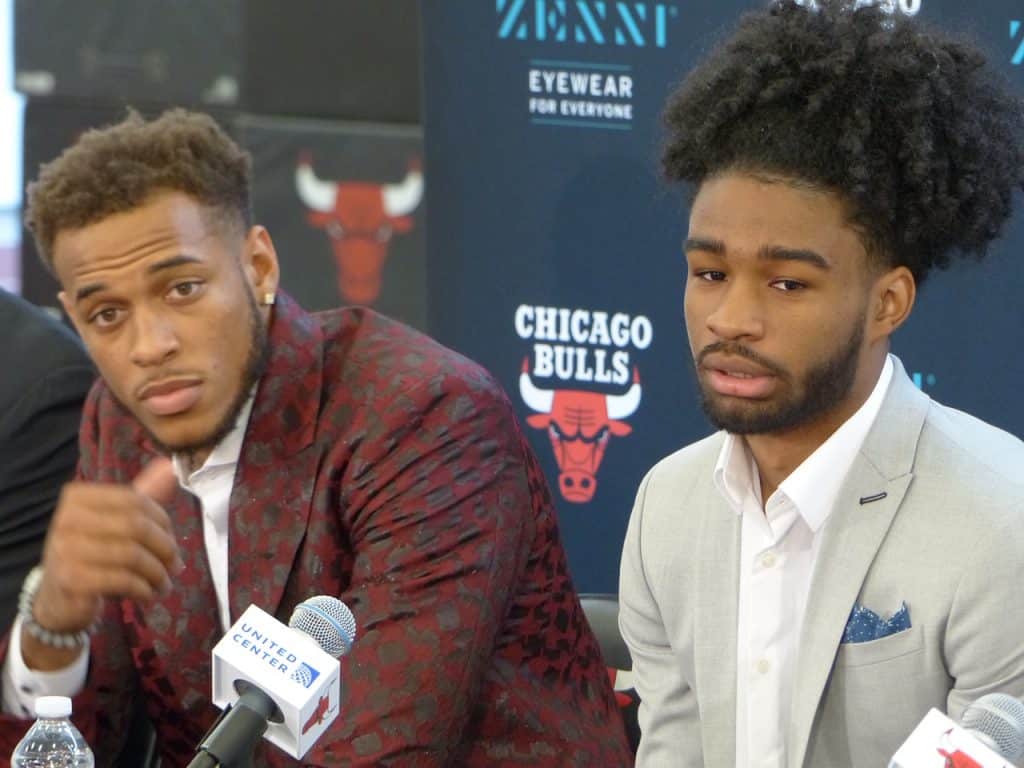 On draft night, the Chicago Bulls made him the first Tar Heel first-rounder the team has selected since Michael Jordan, with the seventh pick in the 2019 NBA Draft. Most mock drafts had him going to the Bulls, who finished the 2018-19 season with a paltry 22-60 record.
I felt a sense of relief for Coby because he was at a spot where people recognized what a great player he was for us. He was in serious consideration for the third, fourth, fifth and sixth picks before the Bulls took him at seven. Chicago wanted him from day one, so I am very pleased he went there. They are getting a fantastic player.

– UNC coach Roy Williams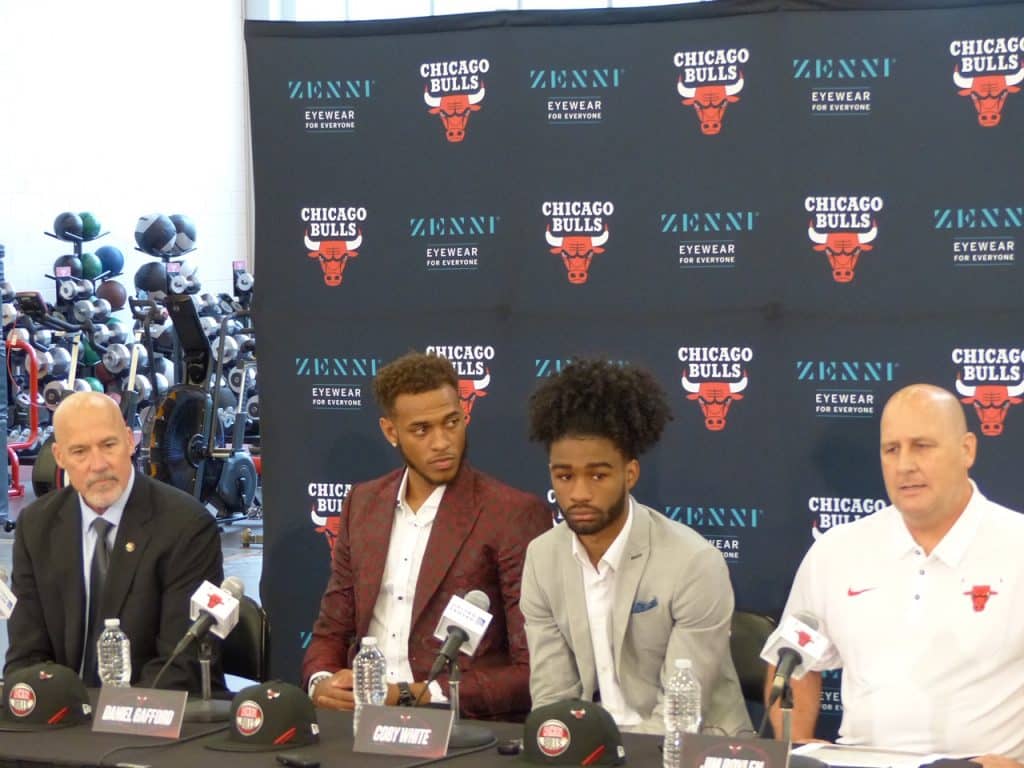 John Paxon stressed that, "the most important thing is that Coby White is a nineteen year-old young man, that's going to get better. He's just starting his career. Our job is develop him and help him develop into the best player he can be." Paxon went on to state, "all of our background on him is that he is the type of young man that will take the challenge on. You have to play faster in today's game. You have to get the ball up the floor. This young man can play an up tempo game. Jim (coach Boylen) has spoken often how we want to have multiple ball handlers. Guys who can take the ball off the board and push it up. Coby can run. He can shoot the ball. At North Carolina, he took on a leadership role with a lot of older guys. We feel he's just a really good fit for us."
He is spot on in that assessment. White led the break for one of the highest and quickest scoring teams in college basketball. Coby averaged a tad over 16 points per game, scoring almost 100 more total points than Michael Jordan did his freshman season.
Bulls coach Jim Boylan had high praise for his new draftee. "We loved his positional size. We loved his multi-position defender and multi-position ball handler. He can play on the ball. He can play off the ball. He can create. He can receive. Above all that, he looks you in the eye when you talk to him. He's coachable."
I love being here. I'm glad they drafted me. My goal is to win. I'm all about winning. All the individual awards, that's gonna come. My main goal is to come in here and win.

-Coby White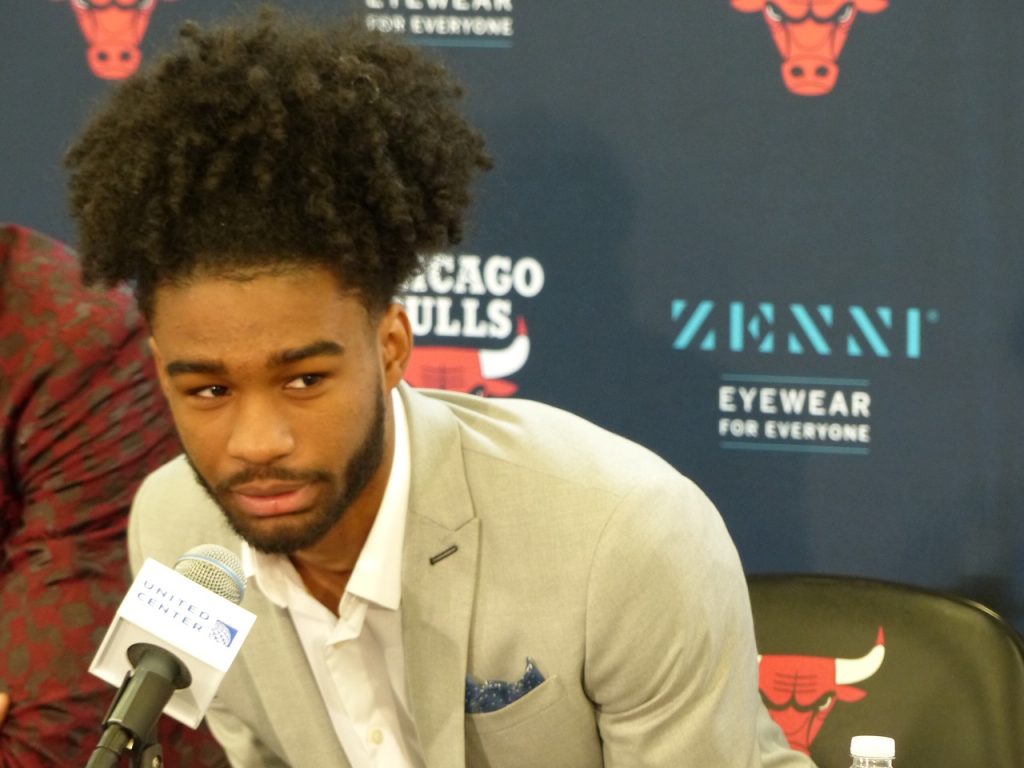 The slender guard was spoting a neatly trimmed beard, and his now trademark crazy hair. He wore a beige suit and white shirt with no tie. His voice is quiet but confident when he adderssed the media, family, friends, and Bulls employees at the press conference. "At this level," he says, "you are going against great players every night. Being in the ACC helped. I was playing against great college point guards. Every night you had to come ready to compete. You had to show up every game. For me personally, the ACC was the toughest conference in the country. Playing in that conference helped me bring that competitive spirit, that heart, and that will to win."