The dust has settled from the Chicago Bears' week one's devastating loss to the Green Bay Packers, and it's time to move on to Monday night's home opener against the Seattle Seahawks. The Seahawks are not the team they once were, and the Bears have a great chance to redeem themselves on the national stage.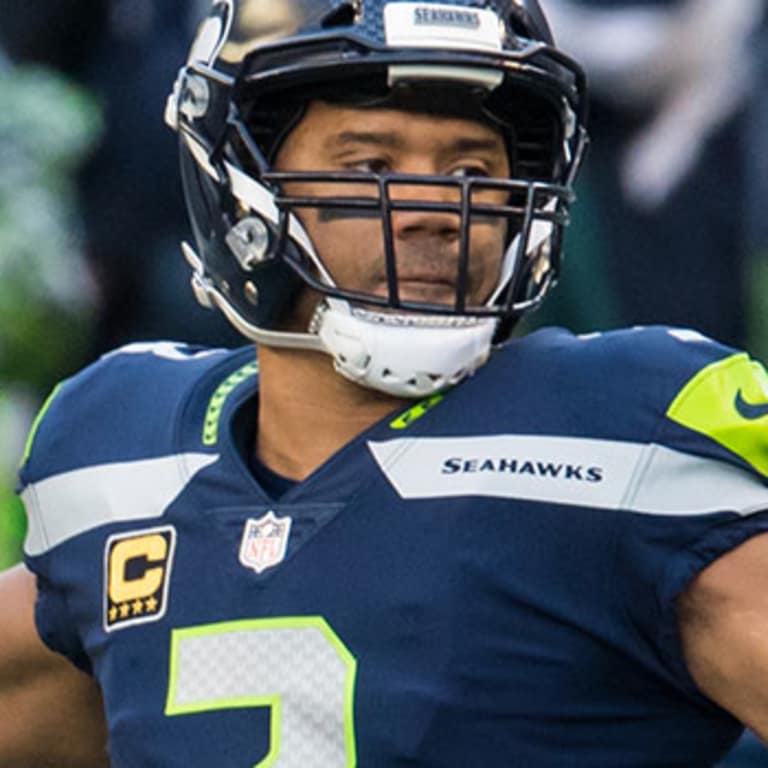 Containing Russell Wilson
Russell Wilson ascended from third-round pick to top-five quarterback in a matter of five years. The Legion of Boom down to one disgruntled safety in Earl Thomas, Wilson has become the face of the franchise. Despite playing the last few seasons behind a downright porous offensive line, Wilson has remained one of the most productive quarterbacks in the NFL, leading in touchdown passes with 34 in 2018. Like Aaron Rodgers, he takes advantage of broken plays and makes things happen with his feet. He's lethal when he escapes the pocket and will take advantage of any mistake a defense makes.
"You got to be able to understand that he's really exceptional outside the pocket," said Matt Nagy on Thursday. "He extends plays. He's one of the greatest in the league at doing that."
Defensive coordinator Vic Fangio knows very well the challenges he faces trying to stop Wilson. "He's got a big arm. He's accurate. He sees the field, and makes good decisions. Then you add in all his creativity and his elusiveness ,and you have a hard guy to deal with." He adds, "What's lost with him, is this guy's a good quarterback. Add the creativity and the escape-ability, and the plays he makes that are improvised. It makes him a double threat."
His strength is also his downfall, however, as his signature quick-triggered roll-out can result in hugely negative yards if properly defended by the defense. The Bears' defensive line is bookended by two athletic pass-rushers in Leonard Floyd and Khalil Mack, giving them a good chance to get to him in their containment responsibilities. Their inside linebacker pairing of Roquan Smith and Danny Trevathan can also make a break for Wilson on a blitz. The Bears' pass rush shouldn't have a problem breaking through the line, but Wilson has experience against the game's best and he escapes by simply being faster. He will have to deal with a fast Bears' defense that has the athletes to chase him down on the perimeter and to prevent him from escaping their rush.
Finishing the game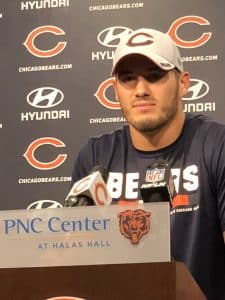 The story of last week can be summed up by just not finishing the game. An explosive first start wasn't enough to keep Rodgers and company at bay (No pun intended). The Bears have an enormous bounce-back opportunity in facing a Seahawks team in the midst of an identity crisis. They should be able to contain Wilson With the pass-rushers they have, but maintaining momentum and capitalizing on chances will be another crucial component in winning. "Offensively, we just didn't get it done with those four three-and-outs,"  Nagy said. "When your defense is playing as well as they were, then offensively you need to help them out and really try to put them away."
The secondary should have an easier time this week, as the Seahawks' receiving corps is a downgrade from what the Packers have, but more consistency will be needed from them as well. A lot can be learned from the second half of last week, but remaining consistent with smart play-calling and adjusting to changing defensive looks is the most important lesson to be taken away.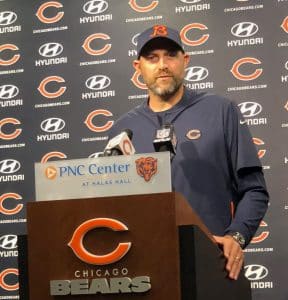 Bouncing back from last week
Bouncing back from a loss as devastating as last week's can be tough. Cornerback Prince Amukamara summed it up on Wednesday, saying, "I think we're on to Seattle, but I don't think anyone can actually really get over this game. I think you just push it back, back, back, back to the back of your head and still kind of remember it." Mitch Trubisky added, "24-hour rule. You watch the game. And then you get over it and it's onto the next game." How the Bears respond to the adversity last week brought will be a true mark of where this team is. If they come out flat and the mistakes made in last week's second half, something will have been off. The best thing the Bears can do is get out to a fast start, but build off that start; take the proper lessons from last week and apply them to Monday night, and the Bears should find success. they are a better team than the Seahawks. Now it becomes a matter of if they play like it.
Roquan Smith's impact
After an arduous contract dispute that resulted in missing training camp, Roquan Smith only played eight snaps in Green Bay. He made his impact felt, however, by recording a sack on the first play of his career. Nagy seemed to suggest Smith would get more reps when asked on Wednesday, saying, "I think so, yeah.  Again, you go back to training camp and you talk about where he was at… I do feel like right now, with that time he's had, he's in a position to definitely play more." Such a revelation should come to the joy of many, as Smith can improve an already impressive-looking defense. His sideline to sideline and coverage abilities are already an improvement over Nick Kwiatkowski, a solid linebacker in his own right, and his athleticism will be crucial against Russell Wilson, as he will most likely spend a lot of plays spying Wilson. Smith and Danny Trevathan form a duo that has generated plenty of excitement, and this week may be the time to see them together for an extended amount of time.
Steve Leventhal contributed to this story.
Twitter: @crbevins11 @radiomogul

Hear audio from Matt Nagy, Mitch Trubisky and Allen Robinson