There is always some anxiety when you see an ex-girlfriend after a relationship is over, especially when the break up was not mutual. Greg Olsen was traded for a 3rd round pick in 2011, he led the Panthers comeback in week 5 against the Bears by racking up 72 yards on 6 receptions and finding the pay dirt twice in the 31 – 24 victory. This was equivalent to showing up to a party and seeing your ex's new boyfriend… who is 6'5", a cardiologist and models for Giorgio Armani on weekends. If getting scorned by one ex wasn't bad enough, the Bears now have an opportunity to get humiliated by a handful of them this week in Atlanta.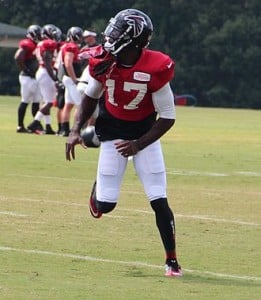 As Sunday nears, the Bears will have to deal with recently departed Devin Hester (WR/KR), Gabe Carimi (OL) and Mike Tice (OL Coach) on the other side of the field, who are also looking for their revenge. "I'm just gonna say it, man. I wasn't happy the last 3 or 4 years in Chicago," Hester said on NFL Network's Total Access. Hester is the MOST dangerous return man in the history of the NFL and do not be surprised if there is an extra bounce in his step this game, as he looks to make the Bears pay for not offering him a contract in the offseason. I doubt Mike Tice will tell his team to carry him off the field on their shoulders if they win like Jim Schwartz but Tice would still be immensely satisfied if the Falcons took home a victory this week.
The Falcons are 2 – 3, with both wins this year coming at home where Matt Ryan has not turned the ball over. Posting a quarterback rating of 137.35 while scoring 46.5 points per game, the Falcons are use to high scoring affairs in their own building. Julio Jones is tied for the league lead for reception with 40, while he has played one fewer game than the Colts T.Y. Hilton. Opposite Jones is Roddy White, historically one of Ryan's favorite targets, who looks to get back on track against the Bears porous defense. Steven Jackson is nowhere close to the running back he used to be in St. Louis but chugs along with his 3.8 yards/carry.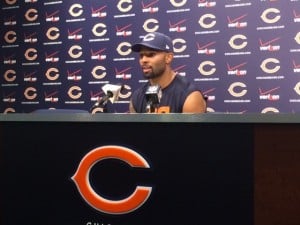 The Bears are 0 – 2 in Atlanta since Matt Ryan took over the starting QB duties in 2008 and look to break that losing streak this Sunday. Matt Forte put it simply on Thursday, "We definitely need to score more points." Ain't that the truth? Jay Cutler and the offense have only scored 3 points in the last two, 2nd half's combined. The Bears shot themselves in the foot three times in the 4th quarter alone last week, turning the ball over on their last three possessions. If the Bears do not score 30+ points this week, they will have no chance at getting their record back to .500.
Jay Cutler, Marc Trestman and Matt Forte talk about the upcoming Chicago Bears vs Atlanta Falcons game
Prediction: Falcons win at home in a shootout, aided by a couple of turnovers by Jay Cutler. 37 – 31.
Key Matchup: Pat O'Donnell vs. Devin Hester – Rookie punter will try to keep the ball out of an all-time greats' hands
Injury Updates: Lance Briggs (Out), Jermon Bushrod (Out), Roberto Garza (Out), Shea McClellin (Out), Jon Bostic (Questionable), Chris Conte (Probable), Jeremiah Ratliff (Probable)
Podcast: Play in new window | Download