In 2013, the Bears were within one 4th down stop of reaching the playoffs. Instead, they finished a disappointing 8-8, and missed the playoffs for the third straight year. However, an already dangerous offense combined with a couple of solid defensive free agent signings, makes for one potential threat to take home the NFC North title. As training camp comes to a close this Wednesday, here's a look back at a few notable details that took place on Monday.
Martellus Bennett and Kyle Fuller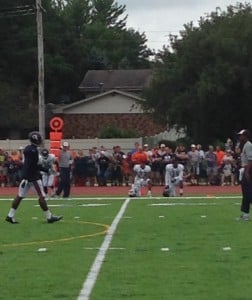 The headline for the Chicago Bears this past week was the conflict between tight end Martellus Bennett and rookie cornerback Kyle Fuller. Recently, a scuffle between the two during a routine practice resulted in Bennett slamming Fuller into the turf. Fights between teammates are usually common in almost every team's training camp. But this time, Bennett was fined and suspended by the Bears as a result. He was reinstated this week, although one interesting thing did occur; Bennett and Fuller rarely appeared on the field and the same time. Normally, this would make sense, seeing as Bennett is the starting tight end, and Fuller is the second string cornerback. But throughout the entire practice, Bennett did not make contact with or near Fuller. While it can't be certain whether this was part of the game plan or just a precaution in case of another incident, it does raise a few eyebrows as to what goes on with the chemistry between the two.
The Other Tight End
One Bears tight end that has gotten the public eye, other than Martellus Bennett, has been the backup veteran Zach Miller. (No, not the former Raider and Current Seahawk.) Miller was signed near the end of last season to a reserve/future contract, and he's gained attention from Bears fans after scoring two touchdowns in the preseason opener against the Eagles. Miller spent three seasons with the Jacksonville Jaguars before injuries finally caught up with him, and didn't make the Buccaneers final roster the following year. After finally getting picked up by the Bears, Miller has shown promise on the field, and continues to impress during training camp. He caught almost everything in sight before going off to the races.
Martellus Bennett also put on a show; catching his share of the passes and making plays of his own. Both continued to impress and receive applause from the stands. While it's unclear as to if Miller will see an expanded role this season, Chicago is safe at the tight end position.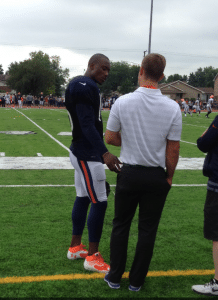 What can we expect from this offense?
Imagine if you're Jay Cutler. You have Bennett and Miller as your tight ends, and they're safe, reliable targets for short passes. Then you have Brandon Marshall, an experienced and dangerous receiver teamed up with Alshon Jeffery who had a breakout season last year. Then you have the league's second leading rusher in the backfield. That is a scary amount of talent around you, and it showed during camp. Marshall and Jeffery were everywhere and caught almost everything in their area. While Cutler did make a few mental mistakes at times, the offensive passing game was explosive and exciting to watch.
One major need that the Bears have wanted for a long time has been a stronger offensive line. While there is still room for improvement, they are still much better off than they were in previous years. They did allow pressure on the quarterback a few times, but always made the right holes for the running game to get through. Matt Forte appeared as though he was already in mid season form, and rookie Ka'Deem Carey already seems like a reliable backup.
The backup quarterback battle has been pretty one-sided. Jordan Palmer threw an interception right into defensive end Willie Young's arms, who returned it for a touchdown. Veteran Jimmy Clausen has continued to outperform him, and will likely be named the second string quarterback.
Defensive adjustments
Last March, the Bears made two huge upgrades in free agency. After losing Julius Peppers to the Packers, Chicago agreed they needed to revamp their defensive line; and signed defensive ends Lamarr Houston and Jared Allen. Allen was particularly important.  A defensive star on the Vikings, he had terrorized the Bears twice a year since 2008. Now, he's on their side.
"I'm not a big believer in self imposed limitations." Defensive coordinator Mel Tucker said. "We don't know what these guys can become, or how good we can be. The main thing is to reach our full potential, as individual players and as a whole. We'll see where it goes and we'll continue to work with these guys at every position."
Tucker has also commented on the pairing of safeties between Ryan Mundy and Danny McCray. "What we've done with the safeties is we worked up combinations, we moved guys around, we'll continue to do that and at the end of the day we'll have a starting group."
Chris Conte has had seven months to get over the embarrassing mistake he made last year when he gave up the touchdown against the Packers. "He's been eager to get back out there and we're gonna get him back out there." Tucker said. "Right now it's a matter of day to day work with what he puts on the field and in the classroom. And he's already done that in the classroom. And now's he's stepped on the field. We're gonna take it one rep at a time, I think that's the best approach."
Defensive coordinator Mel Tucker comments on Kyle Fuller, Chris Conte, Jeremiah Ratliff, and Mundy-McCray
Podcast: Play in new window | Download