Fresh off their bye week, the Chicago Bears will travel to Miami this Sunday to face the Miami Dolphins. For the first time in a while, the Bears have bountiful momentum and a chance to tighten their grip on their first place position in the NFC North.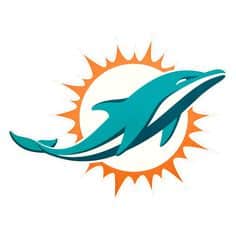 Will Trubisky build on his success?
Mitch Trubisky was simply great in his last game against the Tampa Bay Buccaneers. He threw for 354 yards and six touchdowns, both career highs. A previously anemic offense was injected with life as its quarterback was finally able to execute the offense the way Matt Nagy had designed it.
He showed he can do it. Now it becomes a question of if he can build off of it.
"He decided to make a throw with conviction and that just kind of domino affected into some other throws," Nagy said on the opening touchdown pass to Trey Burton. "The biggest takeaway for me isn't something that you're going to see on the field so much as it just the way he handled himself in between plays and series."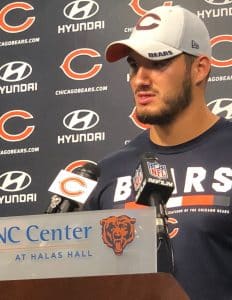 Trubisky will face perhaps his toughest secondary yet, as the Dolphins lead the NFL in interceptions with 10. Xavien Howard leads the league with three and has blossomed into one of the league's better cover corners playing opposite Bobby McCain, who is listed as questionable. Reshad Jones has long been a rock at safety and the addition of first-round pick Minkah Fitzpatrick puts the bow on their group.
"That defense takes a lot of pride in taking the ball away," Trubisky said. "For us, it's going to be, continue to focus on the execution that we had. Me, emphasizing taking care of the football, our ball carriers taking care of the football and just making good decisions."
He also confirmed the arm sleeve will return.
Though the Dolphins present an impressive secondary, Trubisky should have time to make his throws if his receivers get open. The Dolphins have nine sacks on the year, planting them at 27th in the NFL. They are 10th in yards allowed and are below average outside their secondary. Trubisky's performance will come down to execution; Nagy has shown he can get his receivers open week and week out, and the receivers themselves have shown they can make a play when given the chance. If Trubisky can hit his throws like he did against Tampa Bay, he should find success.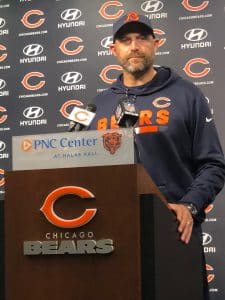 Pressuring Tannehill
The Bears have had zero problems with rushing the quarterback this year, as evident by their 18 sacks. Nothing can be said about Khalil Mack and his five sacks that has not already been said, but his continued dominance will play a big factor this Sunday. John Mullin of NBC Sports Chicago compared Mack's impact to how the 1985 Bears' defense looked.
"What a guy like Mack does is introduce an element like a team like the '85 guys would talk about. You know, Richard Dent would get a sack and it would make everyone else go, 'I want to get mine now.'"
What is most intriguing about this matchup is how the Bears' interior defensive line will play. Miami will be without their starting guard Josh Sitton and as a result, the interior has not faired well. Akiem Hicks has already been a menace up front and should continue that against a weak Dolphins' interior offensive line. Throw in the extra attention Mack already receives and the Bears may have another field day.
Hicks gave a little insight into what his plan is for Sunday: "Destroy. Destroy everything."
A pass rush having a field day is the worst thing for a quarterback, but particularly for Ryan Tannehill. Tannehill is among the NFL's worst when facing pressure, posting a 21.1 passer rating. Getting in his face and making life miserable will put a boot on a Dolphins' offense that has been explosive at times this year.
"You give him a good group of players, he's going to make them that much better because he's a good on the field coach and then he calls the game really well," Dolphins' coach Adam Gase said of Vic Fangio and his defense. "It makes him really difficult to prepare for."
Tannehill is at his best when comfortable. Recent history shows the Bears should be able to get to him and prevent him from setting into any sort of rhythm. If they can take away the Dolphins' offense, victory should come easily, regardless of how the offense performs.
Bears' health vs. Dolphins' health
The past few seasons have not been kind to the Bears as far as injuries go. This season, however, the Bears have remained mostly healthy, with only four players currently on the injury report. Meanwhile, the Dolphins have 16, only six of whom were full participation at practice. The Fins are banged up, and with so many second-stringers potentially seeing action, the Bears will have even more opportunity to extend their recent run of success.
Twitter: @crbevins11 @radiomogul
Hear words from NBC Sports' John Mullin