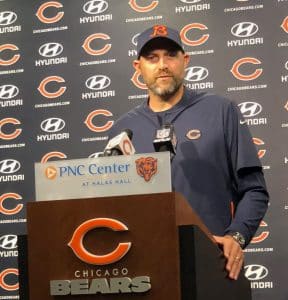 Football is back! The grueling months of off-season speculation, predictions, controversies and stories that simply won't go away, have finally come to an end. So, when Chicago Bears fans hear the iconic trumpets of NBC's presentation of "Sunday Night Football," an all-too unfamiliar feeling of optimism will accompany their excitement. A whirlwind off-season, capped off with the trade for Khalil Mack, will finally come to fruition this Sunday when the Bears travel up North to face their long-time rivals, the Green Bay Packers. This past spring and summer have been the most active for the Monsters of the Midway in a very long time, and expectations haven't been this high in quite some time. With that, here is what to watch out for in the Bears' season opener.
When superstars collide
Aaron Rodgers, for years now, and before him, Brett Favre, have seemingly been the only superstars on the field when the Bears and Packers squared off, impacting the game in more ways than most can conceive. Sunday, Chicago will ride into Green Bay flexing some star power of their own with Khalil Mack.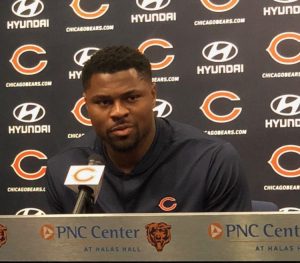 Rodgers and Mack have faced off before, back in 2015 when Mack had just begun to insert himself amongst the league's best. Mack left his impact on the game with one sack and a pressure that resulted in an interception, but the Packers went on to win 30-20. The past is the past though, and the two are better (and richer) now than they were then.
Mack and Rodgers have similar impacts on both sides of the ball in that they make everyone around them better. Rodgers's elusiveness and ability to sense the rush make him nearly impossible to bring down, leading to extended plays, busted coverage and, therefore, big plays for his receivers. He'll quickly identify his hot routes to shred a blitzing defense, and he can fit the ball into any window to the point that his receivers just have to hold on.
"[Rodgers] is pretty much as special as they get at that position," said head coach Matt Nagy this week. "He makes plays that just so many quarterbacks can't make and that's a huge weapon."
Mack, on the other hand, creates his own dilemmas for offenses. He can beat any offensive tackle one-on-one with speed, power or technique. Bryan Bulaga will be put to the test against him, and even he, one of the game's best tackles, will have his hands full. Mack will still demand double and sometimes triple teams, which will result in the likes of Akiem Hicks and Leonard Floyd facing single-blocks. "Definitely adding a guy as good as him will definitely boost your overall defense," Floyd said on Mack's impact. Hicks is also keenly aware of the difference Mack can make, saying, "He's the type of player that makes everybody's job easier… wherever he is, he just makes everybody's job easier because he's such a threat."
If Mack and the rest of the Bears' defensive line can collapse the pocket and contain Rodgers, bad balls should be available for the Bears' secondary to take advantage of.
New faces– everywhere
Ryan Pace had quite a busy offseason, completely re-tooling the offense with the additions of Allen Robinson, Taylor Gabriel and Trey Burton. The team traded up for Anthony Miller in the second round of the 2018 NFL draft, and should see plenty of reps himself. Most importantly, Matt Nagy takes over as head coach and his new-look offense for which he calls the plays will be in the spotlight Sunday. Defensively, Mack is the obvious new arrival, but first-round pick Roquan Smith will also see plenty of action, especially after practicing full-speed this week following a hamstring injury.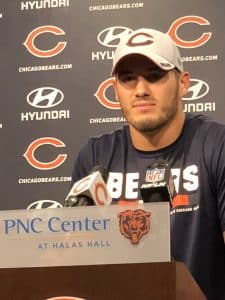 The Bears are not alone in their makeover, however. Green Bay completely revamped its coaching staff, bringing in Joe Philbin and Mike Pettine to coordinate the offense and defense, respectively. Nagy spoke on facing Pettine's defense, saying, "He's always had an aggressive mentality. He's very creative. He does a lot of great things and he can disguise what he does. He does it really well." He added, "I respect that. I think that when you're able to get your guys to play fast like he does by doing such creative things, it can make it hard on the offense."
Green Bay also added Jimmy Graham, who should get his fair share of targets and remains a red zone nightmare. Their secondary was also rebuilt, as Jaire Alexander and Josh Jackson, their first two picks of the 2018 draft, will join second-year corner Kevin King in their cornerback room to bring stability in their secondary.
The offense of the future is here
As mentioned, Nagy's offense will be on full display Sunday night in his first regular season game as a head coach. The preseason offered brief glimpses into how the offense may be run, but it won't compare to what will be shown Sunday night. We will see how a gadget back like Tarik Cohen will be used this season and in the future and how Nagy plans to incorporate the speed of Taylor Gabriel.
"It just gives a different element," said Gabriel, referring to the speed of he and Cohen. "Playmaking ability, being able to make a play anywhere on the field. And to not just have one but two, that brings a different element to the offense."  Cohen added, "You always got to think about the deep threat when both of us are on the field. That makes it even harder for the defense to know where the deep threat is coming from."
Robinson's big-play ability will hopefully be tested, and just how important Burton is to this offense should also be put on display. Most importantly, we will finally see what Trubisky looks like in this offense. It most likely won't be a perfect product right off the bat, but the key to success this season will be Trubisky taking control of this offense and making it work how it's supposed to.
Twitter: @crbevins11
Hear audio from Matt Nagy, Roquan Smith, Mitch Trubisky and Anthony Miller from Wednesday and Thursday's practices: