Draft season is upon us, and after the typical ebbs and flows, falls and reaches of the first round of the 2019 NFL Draft, the Chicago Bears will get their chance to add to their playoff-caliber team.

A successful season and a roster with few holes left the Bears with little to worry about, particularly the first night, where they were without a pick as a result of the Khalil Mack trade. The Bears hold five picks, one in the third (87), one in the fourth (126), one in the fifth (162), and two in the seventh (222, 238).

"There's just so many variables and so many scenarios, cause there's so much space before we pick" general manager Ryan Pace told reporters in his pre-draft press conference. "There's a bigger pool of players. So you're playing out every one of these scenarios, 'Man, what if this player fell?' There's just a bigger pool of players we're talking about, so a lot of scenarios. So that's probably the challenge that exists with that."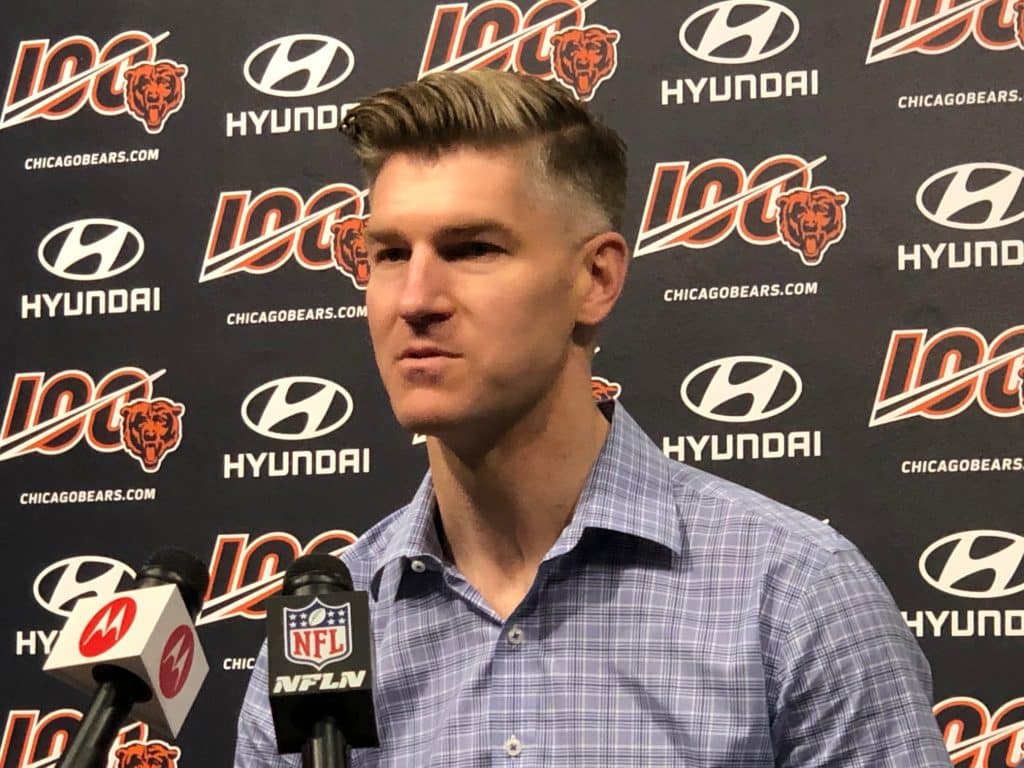 The Bears' two most pressing needs remain running back and kicker, and the need for the former was exacerbated by the trade of former Pro Bowl running back Jordan Howard to the Eagles. The buzz has been that the Bears will surely take a running back in the third round, but it's possible they truly believe in the upward arrow of Mike Davis and the versatility Cordarrelle Patterson and Tarik Cohen offer in the backfield.

Pace was sure to mention he doesn't feel any immediate pressing needs, saying, ""You know, I know right now, running back's been talked about a lot, but right now, we feel good about that position. We feel good about Tarik (Cohen), we feel really good about Mike Davis, we feel good about Ryan Nall, and we feel good about Cordarrelle Patterson and the things he can do out of the backfield as well."

If such is the case, depth will be a priority, perhaps on the interior of the offensive line. Cody Whitehair will be a free agent next season and Kyle Long isn't getting any younger. Ryan Pace has shown a willingness to draft secondary help in the later rounds, particularly at safety. Ha Ha Clinton-Dix's one-year deal could call for insurance at the position.

"We're trying to project right now, who will be there. So I would just say that third round cloud, for example, it's just bigger than it is in previous years," Pace said.

With those three positions laid out, let's start with the sexiest: Running back. The league has grown smarter and learned to understand the pitfalls of drafting a running back in the first round. After the first round, Alabama's Josh Jacobs is the lone running back off the board.

This crop of running backs is particularly deep, and barring a crazy run on running backs, impressive talent will fall to the third round. Miles Sanders and David Montgomery are thought to be the next best running backs after Jacobs, and there's a good chance they'll be gone before the Bears are on the clock at pick 87. A trade-up is always possible with Pace, but let's assume those two are gone.
Matt Nagy wants his running back to be two things, athletic, and adept catching out of the backfield. Jordan Howard was neither of these things, so he was traded to the Eagles. Memphis's Darrell Henderson was an uber-productive ball carrier who runs hard and runs far (He averaged 8.9 yards per carry his senior year). He has the breakaway speed to make defenders miss at the second level, and he gets to that point with crafty agility and an ability to avoid defenders. His athleticism and explosiveness compliment his pass-catching abilities, and those three traits make him an enticing fit in Matt Nagy's system, despite his 5'8 height. If (And that's certainly a big "if") Henderson is there, Pace should sprint to the commissioner with the draft card in his hand.

Offensive line is not an immediate need, but with running back being really the only one, the Bears can afford to shore up the interior. The middle rounds of the draft are a good place to find immoveable guards, but those guards also have to move. Another extension of Nagy's desire for athleticism, a fluid set of interior players is a necessary component in Nagy's system, particularly in the run game, indicated by the hit the Bears' run production took they lost Kyle Long due to injury. Some names to keep an eye on over the weekend are North Carolina-Charlotte's Nate Davis, Penn State's Connor McGovern and Georgia's Lamont Gaillard.

We still don't know for sure what Chuck Pagano wants in his safeties, but the signing of Clinton-Dix indicate he desires balance between defending the run and the pass, at least next to his ball hawking free safety Eddie Jackson. Only two safeties came off the board in the first round, leaving a lot of talent left. Whoever the Bears draft likely won't be an immediate starter, so it should be a safe assumption that they'll look more to the fourth and fifth for a project as opposed to missing on a potential instant-impact player in the third. Boston College's Will Harris made an impact in the run game, and with grooming, his athleticism could project him to be capable in the pass game.

One last thing to keep an eye on is the Robbie Gould situation. The Bears' all-time leading scorer recently requested a trade from San Francisco, and the Bears immediately came to everyone's mind. Kicker trade demands are fairly unprecedented, but if Ryan Pace truly wants to end his search for the ever-elusive kicker, the Bears' fifth is not too high a high price.
Follow on Twitter: @crbevins11 @radiomogul
Hear audio from Ryan Pace: