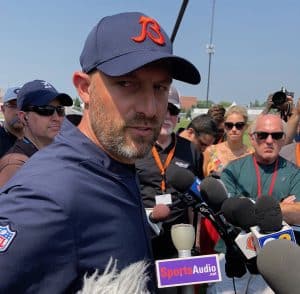 The 2018 edition of the Chicago Bears continued their preparation at training camp for their first season under new head coach Matt Nagy Tuesday in Bourbonnais, IL. This session, closed to the public, had the team working on defensive and offensive drills sans pads and helmets. The following day was a scheduled day off, before returning for three consecutive day in full protective gear.
Quarterback Mitch Trubisky continued his quest for self improvement from his rookie season.
Nagy confirmed this in his post practice comments.
I love his footwork and his balance.  I didn't harp on it in OTA's. Now that were getting into training camp, there's more bodies flying around. You really take notice of his timing, which is what our offense is built on, is really good right now for a second year guy.  His anticipation is really good. We're continuing to work on downfield throws. We'll pick out the throws he needs work on and we'll hammer those in individual drills and team drills, and get him ultimately to where we want him.
He also reiterated his goal of improving the team's turnover ratio.  Nagy stated, "We want to be up there in the top of the league in turnovers  and takeaways.  When you emphasize it and you talk it every single day, and you do it in practice every day, it only helps the offense out with ball security. Let's get to the top of the league in that, and the percentages go way up in wins."
Free agent wide receiver Allen Robinson is enjoying the opportunity to get acclimated to his new team. "Camp helps, because you have all the extra time and extra film periods to go though all the nuances in the offense," noted the former Jacksonville Jaguar.
Offensive lineman Kyle Long by now knows the rigors of training camp. "It's no secret," he says, adding, "It's training camp. It's supposed to be tough, and physical, and competitive. At the end of the day, we're on the same team, but the only way to sharpen one another is to 'get after it'."
Comments from coach Matt Nagy, Allen Robinson II, and Kyle Long