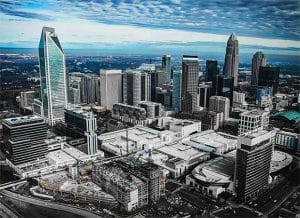 It's been at least thirty years since I spent any quality time in Charlotte, North Carolina. The largest city in the Tar Heel state has undergone a tremendous amount of growth since then. Back in those days, the only major sports were NASCAR races. The addition of the NBA Hornets in 1988 and the Carolina Panthers in 1995 brought major league sports to town.
The last time I attended a PGA golf event there was the 1973 Kemper Open at the Quail Hollow club. That event would remain there until 1979, before relocating to Maryland. In 2003, golf returned as the Wells Fargo Championship. This year the tourney moved to coastal Wilmington, so Quail Hollow could host the PGA Championship. The lure of a golf major and a chance to visit with friends was too good to pass up.
Ouch! Five days before departing, I had a cycling accident and broke a rib. However, the doctor cleared me to travel.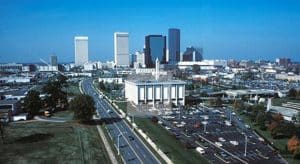 It just meant I had to adjust my plans a bit.  That would mean a lot less walking around the course, and more time in the media center.
The charm of attending a golf tournament is to see the natural beauty that television just can't depict. Televised golf is a three dimensional sport on a two-dimensional platform. There is no question that you see a whole lot more action on TV, but it just doesn't convey the hole distances, the lush terrain, and the slopes and angles of the greens.
The two ways to watch golf in person are to follow the golfers around, or camp out in a few selected places and see the players as they make their approaches.
Friday it rained on and off, so I decamped at my hotel and watched the action with friends.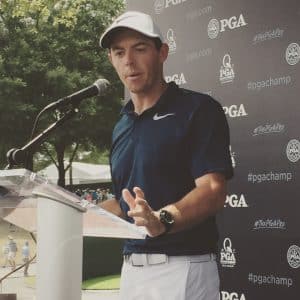 Saturday, I picked up my credential and walked a good portion of the course, tagging along with friends who'd attended several of the Wells Fargo tourneys there. They proudly pointed out the highlights of the course,  including the seventh, the thirteenth, and holes sixteen through eighteen, collectively known as the "Green Mile." Although it really isn't a mile long, in the ninety degree heat, it sure felt like it.
Sunday, due to time constraints, and the pervasive heat, it was more practical to work from the media center, and catch selected players as they were made available at the interview area. Neither Dustin Johnson, Rory McIlroy, and Jordan Speith had a particularly good tournament, but were all gracious after their final rounds.
Johnson confirmed things haven't returned to normal since his accident just prior to the Masters.
McIlroy was jetting back to Northern Ireland to rest and have his ailing back looked at. He hoped to get back and play some more events this year. "Right now it's a tough one," he grimaces, "because I can go out there and I can play, and shoot decent scores, but when I come off the course, I feel this left rhomboid is gonna spasm, and my left arm goes numb."
Rory McIlroy's talks after finishing the fourth round at Quail Hollow:
Speith, whose career has taken off in the last two years, even stopped for a few autographs en route to signing his scorecard. I couldn't resist the temptation to ask him if he'd ever been on the other side of the ropes himself.  He confessed that he once obtained Australian Adam Scott's autograph at the Byron Nelson in his hometown of Dallas. Regarding his performance this year, he noted, "We won a major. We had a chance to win at Augusta too. I didn't have a chance to win [the PGA] which is a downer. But overall, when I look back on the year at the major championships, it was fantastic. If I did this every year, I'd go down as the greatest ever to play the game. So I need to look at it that way, and I am."
Jordan Speith's post round comments: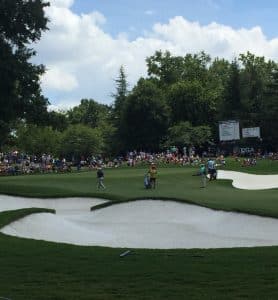 American Justin Thomas won for the fifth time since turning pro in 2015, nabbing his first major championship. Thomas shot six birdies on Sunday, for a come from behind win over third round leader Kevin Kisner of Aiken in nearby South Carolina.  Francesco Molinari, Patrick Reed, and Louis Oosthuizen finished tied for second two shots back. It was one of the most exciting majors in quite some time.
However, this isn't just a golf story. Nowhere is the growth and popularity of Charlotte more noticeable in the hip neighborhoods that have sprung up. Friday night my entourage headed off to Montford for dinner, eating tapas style dishes at Good Food. Then we wandered around the area checking out the night life.  It was incredibly vibrant, very lively.  More info on the area.
That hardly compared to Saturday night, when I got a tour of uptown, beginning with the South End, with its apartment building sprouting up like weeds, along with restaurants and brew pubs. That is part of uptown, which once was populated by a few large office buildings, and now is home to apartments, condos, many more hotels, an arena, and modern parks, where a live band was playing. The highlight of the area is the Epicentre, and open air space with restaurants, bars, nightclubs, a cinema, and bowling alley. It was teeming with people, and even as we were leaving at midnight, it seemed that even more people were arriving.
It's a far cry from the sleepy little big city of my youth. I would say that Charlotte has arrived, but the locals have known that for years.