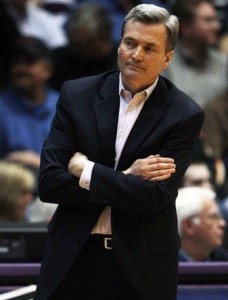 (Evanston, IL) A school record four consecutive postseason appearances in the NIT.  189 victories in 13 years, or 14.50 per season, the second-most in school history. Two All-Big 10 players in John Shurna and Drew Crawford. Sounds okay for a Big 10 coach, maybe? Especially at a school more revered for academics than athletics for more decades than the coach has been alive.
Yet, in Northwestern University basketball coach Bill Carmody, we always seemed to want more. Why not an NCAA bid? Why did we do so badly in Big 10 Conference Tournaments? (Ohio State and Wisconsin, that's why. And now, Indiana).  Alumni grew impatient with coming so close…and yet so far…from the NCAA March Madness that kept eluding them.
At one point, even a play-in game in the field of 68 would have probably satisfied the NU faithful.
After all, Coach Pat Fitzgerald's football team broke a 49-year drought by winning the Gator Bowl, winning over a tepid Missisippi State team. Why not the roundballers getting their first-ever NCAA bid to March Madness?
It all looked possible as the Wildcats zoomed through six consecutive victories to start the 2012-2013 campaign. They won the South Padre Island Invitational by beating the Texas Christian University Horned Frogs and the Illinois State Redbirds to take the championship. Senior Jared Shropshire was named tournament MVP. It looked good. It felt promising. Besides Shrop, there was fellow senior Reggie Hearn, ranking 13th in the Big Ten with an average of 13.5 ppg. And Naperville's own Dave Sobolewski, who lifted the Wildcats over their first meeting with the Nittany Lions at Happy Valley with 18 points.
And then….in game number 7, at home in Welsh-Ryan Arena on December 27, against future Big 10 opponent Maryland, the Wildcats starting losing…77-57…then against city rival UIC, 50-44. And against Big 10 opponents…much worse. On January 3, the Wildcats lost big to Michigan, 94-66, then split with the Minnestota Golden Gophers, Fighting Illini, and lost twice to Iowa and Ohio State. They played impressively in a loss to #1 Indiana at home 67-59.
Injuries to key players, particularly the high-scoring Jared Shropshire, may have killed the euphoria, and possibly, the momentum of the first six games. Shrop was injured during the February 9 game at Iowa. Hurting his right knee, he had arthroscopic surgery two days before Valentines Day, thus ending his career at Northwestern. Shrop led the Wildcats' injury parade, that also included Drew Crawford's shoulder, Chier Alou's knee, and Sanjay Lumpkins' wrist. JerShon Cobb was lost to violations of team policy.
Penn State coach Patrick Chambers said."I've never seen injuries like this in my entire life."
"We won't use injuries as an excuse for this season," said Hearn, who said he was mad at himself and ignored a standing ovation from the crowd as he fouled out of the Wildcats' 66-59 loss to Penn State on March 7. "The way we were able to compete and stay in games, it's a credit to Coach Carmody."
After 13 years as Northwestern University's basketball coach, it looks like Bill Carmody is on the bubble. He said as much in the postgame press conference. He admitted that he'd been thinking about it. "We'll have the Big 10 tournament, and then I'll talk to Jim (Phillips, NU's VP of Athletics and Recreation) after that."