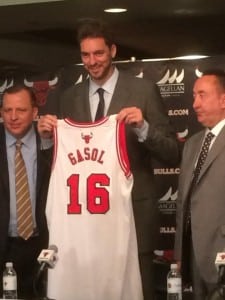 The Chicago Bulls came into this summer's blockbuster free agency period with one big target on their minds, unfortunately for them, they came away with a "Plan B operation." While it was disappointing not to land one of the most proficient scorers of the past decade, it may go down as the best alternate plan in Chicago basketball history.
The Bulls challenged Carmelo Anthony to turn down more money than most of us will ever see in our lives for the opportunity to contend for a championship with a former MVP, the 2013-14 Defensive Player of the Year, and a top five head coach. New York Knicks president Phil Jackson challenged Anthony to return to New York where he will play on a brutal team, BUT, with a nice fat paycheck coming his way.
Most realistic fans and analysts knew the chances of Anthony coming to Chicago were slim, however some thought maybe, just maybe, there was a possibility Melo wanted to silence his critics who say, "he will never be the best player on a championship team."
However, it was not meant to be, and Anthony returned to the Knicks with a five-year, $124 million deal, which left Bulls fans wondering why [the Bulls] aren't able to land the big free agents.
A valid question when you consider the front office's failures throughout the last decade to lure top free agents to Chicago, instead settling for consolation prizes such as Eddie Robinson, Ron Mercer, and most recently Carlos Boozer.
So, with Melo following the money back to New York, what would the Bulls do next? What was their plan B? In the time it took for Anthony to make his decision most of the smaller fish free agents were already scooped up.
The Bulls decided to move on to their alternate plan, which included the 34-year old, 7-foot Spanish Forward, Pau Gasol. Gasol, a four time All-Star, had spent the last 6 seasons with the Los Angeles Lakers and won two championships with the team, while also becoming one of Kobe Bryant's all-time favorite teammates. Rumors of mutual interest between him and the Bulls had been swirling for about five years.
On Friday, the Bulls officially welcomed Gasol to Chicago with a press conference where he discussed how excited he is to compete for a championship in the new look Eastern Conference.
"It was a gut feeling. I thought Chicago was going to be the best fit for me," said Gasol. "It's a great challenge, but I'm driven by challenge. I look forward to it."
While it was a solid pickup for the Bulls, would it be enough to make them the favorites in the new look East?
The Bulls, even without former MVP Derrick Rose, managed to win 48 games and make the playoffs for a sixth straight season last year. However, they once again struggled to find scoring at the end of games which was made loud and clear in their playoff series loss in 5 games to the Washington Wizards.
The good news for Bulls fans is that Gasol is an upgrade over Carlos Boozer. When the Bulls signed Boozer away from the Utah Jazz they had expected him to be a force, executing the pick-and-roll with Rose, much like he had been in Utah with then Jazz point guard, Derron Williams, running the show. The problem with that was Boozer had gotten older, lost a step, and instead settled for 16-18 foot jumpers.
With Gasol, the Bulls will not have to worry about finishing at the rim. Gasol is 3-inches taller, so he will be able to finish against bigger and stronger defenders, something Boozer struggled to do in Chicago. Gasol can also knock down mid-range jumpers and is able to keep defenders honest.
The Bulls are also excited about Gasol's passing game. While Boozer and Bulls' center Joakim Noah worked well together down low, Boozer averaged 2.9 assists per 100 possesions, Gasol averaged 5.2 and has not dipped below 3.0 since the 2003-04 season.
So, why were so many fans upset? Well, first of all Gasol is not really a guy who can create his own shot, and he is not going to average 28 points per game, even in his prime that would be unrealistic. Gasol is also 34 years old, and is coming off a season in which he battled foot injuries throughout the year. Also, while Gasol is a force defending under the rim (1,1484 career blocks), you would still figure it would be Taj Gibson and Noah closing out games at the 4 and 5, because they are tremendous defenders and work well together as rim protectors. But, the players who start and finish the game are the least of the veteran's worries.
"I don't know how it's going to unfold," Gasol said, "you know, who will be the starter, who's finishing? Maybe we change as we go. We're going to see once we get everyone out there together. We're always going to do what's best for the team."
Bulls head coach, Tom Thibodeau, was not ready to discuss minutes just yet either. "It should be good," Thibodeau said. "Pau is conflicted. One minute he wants short minutes, one minute he wants long minutes. We'll find the right amount."
The Bulls did not find their shot creator, so instead they have attempted to build a team similar to this seasons NBA Champion San Antonio Spurs. The Spurs beat the Miami Heat and LeBron James without having a "Melo" type player. They won with floor spacing, ball movement, and surrounding point guard, Tony Parker, with great three-point shooters.
With a healthy Derrick Rose playing the part of Parker, the possible return of sharp-shooter Mike Dunleavy, (at this time he is still with the team), second-year player Tony Snell, (who struggled at times last season, but has been looking improved in summer league), and the rookie, Doug McDermott, the Bulls hope to be a mirror image of last years Spurs team and improve on last seasons .348 three-point shooting percentage which was the worst in the league.
To add to the lineup they have been preparing, the Bulls also introduced European star, Nikola Mirotic, on Friday. Mirotic, (who was acquired by the team in a draft-day deal in 2011 from the Houston Rockets), signed a three-year, $18 million deal to play with the Bulls. Since it has been three years since he has been drafted, he does not have any obligations to a rookie contract.
While it is unclear how long it will take for Mirotic to pick up the NBA game and earn Bulls head coach Tom Thibodeaus trust, Bulls management is very confident in his ability to space the floor and knock down shots from the perimeter as a "stretch four". On Friday, Thibodeau acknowledged Mirotic as being a real fit for the Bulls.
"He's a big who is extremely skilled," Thibodeau said. "He's a spacing 4 who shoots the 3 very well. He's versatile in that he can play inside or outside. He has a high basketball IQ and a good motor." Last season, Mirotic shot 50.8% from the field and 46.1% from three-point range in 31 games with Real Madrid of the Lega ACB last season.
The Bulls offseason may not have gone exactly the way their managment and fans had hoped, but the team will still begin the 2014-2015 campaign as one of the favorites to come out of the East. While the Bulls will be much improved this season it will all come down to Derrick Rose staying healthy, and if he stay healthy throughout the season and be prepared for the playoffs, the Bulls will go as far as he will take them.
Full Audio from Fridays Press Confrence
Podcast: Play in new window | Download