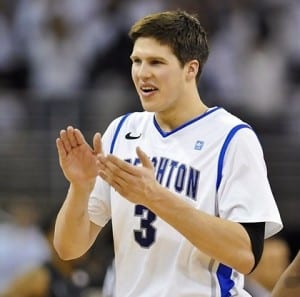 In what looked like a match made in Heaven, the Denver Nuggets drafted Doug " McBuckets" McDermott with the 11th pick in Thursday night's 2014 NBA Draft.
The Nuggets are known for their run and gun style, high scoring, and lackadaisical defense. McDermott is known for his offensive instincts, terrific 3 point shooting, and at times, well lackadaisical defense.
The Chicago Bulls, who are known for being a gutty, hardworking, defensive minded team, saw something special however, enough to package picks 16 and 19 as well as a 2015 second-round pick for the rights to McDermott, who general manager Gar Foreman grew very fond of over the past few seasons.
"What excites us about Doug is we feel he's more than a shooter," Forman said. "He's a guy who is crafty with the ball, can create his own shot, can go in the post some, has a quick release whether it's from the perimeter or outside."
McDermott finished his career as one of only three men in NCAA history with 3,000 points and 1,000 rebounds in his four years at Creighton, where he also played for his father.
While many people have ripped McDermott for his defensive efforts, most of that could be a reflection on just how much of the offensive load he had to carry at the college level. "McBuckets",as nicknamed by fans, quickly became a fan favorite not only at Creighton, but with the Bulls organization as well.
Coach Tom Thibodeau worked with McDermott last summer for USA Basketball and saw much more than just a long range shooter
"If you view him as strictly a shooter, you're not casting the proper light on him," Thibodeau said Thursday night.
On paper the Bulls solved one of their biggest needs by drafting a shooter, (the team shot an awful 42 percent from the field, and an even more disgusting 33 percent from 3 point land) but the trade for McDermott, as well as possible moves to come, all serve as part of the "big picture plan"
The Bulls are planning on doing everything in their power to acquire free agent Carmelo Anthony, but other moves need to be made before this is possible.
The Bulls would possibly only free about $11 million of cap space, if they used the amnesty provision on Carlos Boozer. So more transactions, and lucky bounces will have to occur this summer for the Bulls to add another superstar.
In the second round the Bulls selected Cameron Bairstow from New Mexico, who averaged 20.4 points per game last season, and will attempt to follow in former Bull and fellow Australian big man Luc Longley's footsteps.
Below is all of the audio from Tom Thibodeau, Gar Foreman, and new Bulls forward Doug McDermott.
Podcast: Play in new window | Download