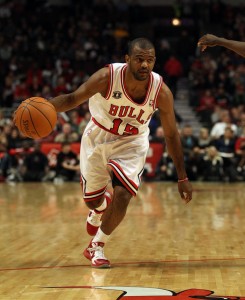 With the help of John Lucas III and his team high 24 points, the Chicago Bulls overcame the absence of Derrick Rose and 71 combined points from Dwyane Waade and LeBron James to defeat the visiting Miami Heat 106-102.
Lucas made 9-12 shots, including 3 three-pointers as Chicago held off a late Miami rally, which included two clutch treys from the Heat's James Jones.
Six Bulls players scored in double figures, and two others finished with eight points each.  Chicago's rebounding advantage of 50-34 helped the Bulls build a lead the grew to as much as 17 points.
After the game, both Wade and James answered questions from the media.
[ti_audio media="2983″]