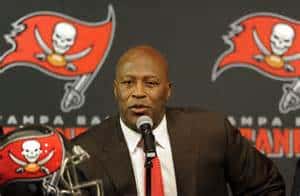 I really want this Bucs-Bears game to be played as soon as humanly possible… as if the Bears 4 – 6 record was not bad enough, the consistent yammering about Josh McCown and Lovie Smith is getting obnoxious.
I get it… the Bears would be the defending Super Bowl champs if Lovie was still the coach and McCown was his quarterback.
We have heard it all before, Lovie had a 10 win team in his last season, a better winning percentage and the "respect" of his locker room. McCown had a better completion percentage and touchdown to interception ratio.
Awesome… but now back to reality.
This game had all the story lines at beginning of the season with Lovie and McCown coming to back to Chicago for the first time since their respective departures. But like most preseason predictions regarding the Bears in 2014, this will just be another game. The Bears have a 5% chance at making the playoffs this year which would require them to run the table and get some help from the football gods.
The Bucs come in with a 2 – 8 record after pasting the lowly Redskins 27 – 7, last week in Washington. McCown is not having a good season, with 6 TD passes and 6 INTs, the Bears defense will look to make life miserable for the ex-Bear.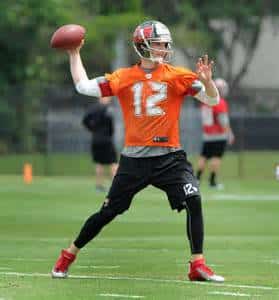 The lone bright spot for the Bucs this season has been rookie wide receiver Mike Evans, the 7th overall pick out of Texas A&M. Over his last three games, Evans has put up 458 rec yards, 21 receptions and 5 TDs. Standing at a full 6' 5", Evans is a huge target in the red zone and has benefited from Pro Bowl WR Vincent Jackson presence.
The Bears have given up the 2nd most passing TDs this season (24). Okay, 11 of those were against future hall of famers Tom Brady and Aaron Rodgers but either way the fact remains that the Bears defense will give up a lot of points thru the air. Hopefully that "player's only meeting" will inspire some competent defense for a change.
I was trying to skip the soap opera that is the Chicago Bears offense this week but if there was a week that the Bears should explode for points, it's this week.
The Bucs are 30th in the league in passing defense giving up 266.1 yards per game and 22nd in rushing defense at 118 yards per game.
Cutler and the offense have not score over 28 points in a game this year, with the 30th ranked team in PPG given up coming into town, one would expect the Bucs to be a "slump buster."
Win or lose, it will be a relief to not have to field questions about Cutler vs McCown and Trestman vs Smith.
Game on.
HC Marc Trestman, QB Jay Cutler and RB Matt Forte talk about the upcoming Bucs game
Key Matchup: WR Mike Evans vs CB Kyle Fuller
Key Injuries: Alshon Jeffery (Quest.), Brandon Marshall (Quest.)
Fact: Bears offense scoring 6.3 points fewer than NFC-best 27.8 from 2013
Prediction: Buccaneers 21, Bears 27
@WesEvans24
Podcast: Play in new window | Download