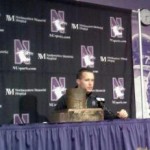 Northwestern University's Wildcats are bound for Jacksonville, Florida for the 2013 Taxslayer.com Gator Bowl.  The coveted Bowl Trophy, which Northwestern hasn't won in eons, would be the second trophy the Wildcats have won this season. How lucky can they get this season?
Already, they are the bearers of the Land of Lincoln Trophy, won in a game against a moribund Fighting Illini team with no fight in them. The November matchup, in fact, between Northwestern and Illinois will be remembered for many reasons, not the least of which was the Wildcats' drawing even with the Fighting Illini at 27 wins and three ties, and an overall 54-47-5 record. Most importantly, Northwestern reclaimed the trophy on their home field for the first time in two years, in a trouncing game with few scoring opportunities for the hapless Illini.
After two years and four bowl games resulting in losses, the 2012 regular season ended on a very hopeful note, after their 50-14 drubbing of the hopeless, helpless Fighting Illini, who went 0-8 in Conference and 2-10 on the season.
Northwestern Coach Pat Fitzgerald, himself a member of the 1996 Wildcats team that went to the Rose Bowl in Pasadena,  sat proudly in the postgame press conference, his face nearly hidden by a large top hat set in bronze.
In that moment, Coach Fitzgerald reminded me of Doug Bruno, the DePaul Lady Blue Demons' intrepid dreamer, who thinks of his team as a "work in progress.," who sees his Wildcats as progressing ever forward toward his goal: a BCS Championship for his young team.
Northwestern got off to a slow start to the Land of Lincoln trophy, giving up a touchdown on running back Donovann Young's 15-yard run with 8:58 left. They trailed 7-3 until the second quarter, when  wide receiver Tony Jones took a 9-yard pass from quarterback Kain Coulter, sending the Wildcats to 10-7 with most of the 2nd quarter remaining.
The Wildcats never looked back.
As SB Nation noted, Venric Mark was impressive on the ground, but quarterback Kain Colter was the star of the game. Colter completed 9-of-11 passes for 102 yards and three scores, while also rushing for another 88 yards and a touchdown.
Most important for the Wildcats were their 9-3 season, the best in many years, and their virtual assurance of a New Year's Day bowl matchup.  The win also tied Fitzgerald with Pappy Waldorf  (1935-46) as the winningest coach in Northwestern football history with 49 wins.
This year's five-year class won its 39th game, the most of any five-year Northwestern University class. The current seniors have helped the Wildcats advance to postseason play in all five years of their careers.
Northwestern takes on the SEC's Mississippi State University Bulldogs. The Bulldogs finished the regular season with an overall record of 8-4 and will be returning to Jacksonville for the second timeThis will be the third consecutive Bowl appearance for the Bulldogs under Head Coach Dan Mullen.
"Northwestern and Mississippi State are truly among the greatest of football traditions in the nation. The Wildcats and Bulldogs will provide one of the most exciting games of the Bowl season and we are lookingforward to welcoming both teams and their fans to Jacksonville for this great New Year's Day matchup," said Selection Committee Chairman Greg Smith.
"Gator Bowl Mystique"
According to their website, the Gator Bowl Association has a storied 67 year tradition, showcasing many of college football's biggest names including Heisman Trophy winners George Rogers, Pat Sullivan, Earl Campbell, and John David Crow. Outstanding players such as Dan Marino, Thurman Thomas, Archie Manning, Larry Csonka, and Peyton Manning are also part of the Gator Bowl Mystique. The Gator Bowl has also featured many of America's best coaches including Bobby Bowden, Steve Spurrier, and Vince Dooley.
Let's add Kain Coulter and Venric Mark to the list. Okay?
Kickoff is at high noon, Eastern time on New Years Day at EverBank Field, with a capacity of 77,510, and will be broadcast on ESPN2