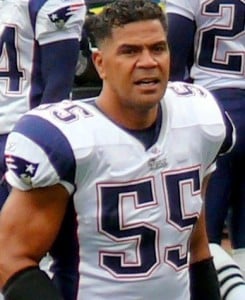 A review of "The Life and Death of a Football Icon"
ESPN football analyst Jim Trotter didn't have to dig too deep for his biography of NFL linebacker Junior Seau. Trotter covered the Hall of Famer while at the San Diego Union Tribune.
Trotter has crafted a compelling story chronicling Seau rise from modest beginnings in San Diego as the son of Samoan immigrants in rough and tumble Oceanside, California to the pinnacle of football excellence. That was where Junior developed his strong sense of family and community that was to be one of his greatest strengths and biggest weaknesses.
Trotter has compiled a detailed portrait of Seau's life, built not just from his own interviews as a beat writer, but with input from Junior's own family, friends, teammates, and coaches. At times, it's not a very flattering picture of a man who had a child out of wedlock with his high school sweetheart, and then was an absentee father of his three other children.
However, it does give a very in depth look at Seau's college and pro career, that endeared him to teammates and coaches, while frustrating and terrorizing opponents. At the same time he garnered the respect of friend and foe with his intensity, heart, along with the innate ability to be in the right place at the right time.  The only thing that Junior failed to accomplish in his professional career was to win the Lombardi trophy, despite two trips to the Super Bowl.
Typical of players who competed at the highest level of sports, Seau's work ethic was second to none.  However, that competitive spirit also led to infidelity, heavy drinking, and gambling. Also there is some discussion of whether the numerous concussions that Seau suffered throughout his twenty year playing career may have exacerbated his proclivities.
Whether it Chronic Traumatic Encephalopathy (CTE) or the side effects of Ambien, that caused Seau to drive his SUV over the side of a cliff in 2010, and led to his taking his own life two years later may never be known. Did that exacerbate his distress over the end of his playing career and mounting personal debt?
Even casual NFL fans will enjoy Trotter's story of the man who touched the lives of so many people, yet never forget where he came from. Unfortunately, that desire to help so many, led to his being pulled in too many directions, making bad business decisions, and undertake questionable, risky behavior.  Despite that, it shouldn't diminish his stellar on field accomplishments.
purchase Junior Seau: The Life and Death of a Football Icon
from Amazon.com