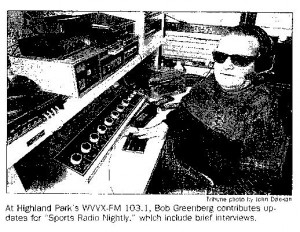 For over forty years Bob Greenberg covered Chicago sports with passion and zeal.  He loved sports and radio and mixed the two in a remarkable career that was made even more special considering Bob was born blind.  He would overcome his handicap to bring his knowledge of sports to listeners on WEAW-FM, WBEZ, WVVX and WCBR as well as being the Sports Director for Sports Radio Nightly.  For the past 7 years Bob appeared every Saturday morning on The Choice and Gemz Radio continuing to report on Chicago sports as well as doing insightful interviews.
On July 9, 2012 Bob lost his battle with cancer but leaves behind a living legacy of friends, memories and sound clips.  We've assembled several friends to pay tribute to Bob's vibrant and dynamic career
Cheryl Raye-Stout, Alison Moran, Les Grobstein, Steve Leventhal, "Packer" Dave Rusch, Len Ackermann and Marty Zivin all share their recollections of Greenberg in this 80-minute special.
Audio clips from SRN Broadcasting
Listen to the audio special.  Check out the bonus tracks on Zecom Radio
[ti_audio media="5175″]