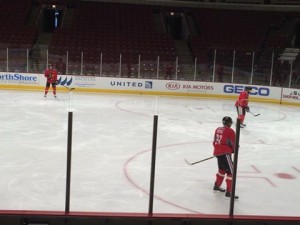 It has been an interesting week to say the least for the Chicago Blackhawks.
The team returned from their circus road trip on Wednesday night with a 4-1 victory over the St Louis Blues at the United Center. They also found out this week, they will be without goaltender Corey Crawford for 2-3 weeks. Crawford will miss time, while he recovers from a foot injury he suffered by missing a step at a concert. However, the Hawks refuse to be distracted and will look for their fifth straight win on friday night at the United Center, when they host the Montreal Canadiens.
While the Hawks are currently on a four game win streak, the Canadiens come into Fridays matchup heading the opposite direction. Montreal has lost four of their five games and will be looking to get back on track in the teams final regular season matchup against Chicago.
( The Blackhawks won 5-0 in Montreal on November 4th) Even with their recent struggles the Canadians, still have one of the leagues best records at 17-8-2.
The Blackhawks will have Antti Raanta in the net, for his first career appearance against the Canadians. Raanta made 40 saves on Weds night in his first start since a 3-2 loss to St Louis on October 25th.
" I like how he challenged" Blackhawks coach Joel Quenneville said about Raanta. " I think he was comfortable meeting pucks, he was good at meeting pucks."
Patrick Kane leads the Hawks with 25 points (12g, 13a) and, looked very impressive in Wednesdays victory while scoring two goals in a game for the 18th time in his career. Even more impressive has been the performance of Kris Versteeg. After struggling last season following knee surgery, Versteeg has once again became a factor for the Hawks, producing 14 points during the last eight games. Versteeg tallied multiple points only six times in 63 games last season, through 21 games this season he has two or more points in seven games.
" I think he is better than ever" Kane responded when asked about his teammates performance this season. "He has been awesome the whole year. Its fun to see."
With Montreal wrapping up their road trip Saturday night in Dallas, Canadiens goaltender Carey Price was expected to get a rest this weekend however, it was announced early friday he will be between the pipes against the Hawks. Price is 3-2 with a 2.19 goals against average in his career against Chicago.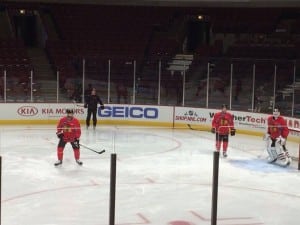 Quick notes from Friday's morning skate.
– Patrick Sharp returned to practice this week for the first time since injuring his right knee on November 4th.
– Adam Clendening was reassigned to the AHL on Wednesday night. Klas Dahlbeck will now get his chance at the Blackhawks sixth defensemen role.
– Max Pacioretty leads the Canadiens this season with 12 goals and 20 points.
Podcast: Play in new window | Download