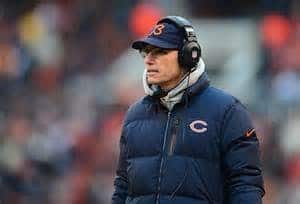 Goodbye.
It is easy to let the 2014 Bears season go… even for the most diehard fans. Filled with disappointment after disappointment, this season has been one of the worst years by any Chicago team in the past 4+ decades.
The Bears 5 – 10 record isn't the "worst" they have had in recent memory, but the failure to play up to expectations that THEY created is what makes this year so awful.
Talks of Jay Cutler being an MVP candidate went out the window after his week 1 performance against EJ Manual and the Buffalo Bills. His 18 interceptions and league leading 21 turnovers were also a major factor in waving this year sayonara. The Bears were unable to get out of their own way on and off the field throughout the year, which has them fighting for last place in the NFC North.
Oddly enough, the Vikings happen to be the other team in that fight and it turns out that both teams would actually benefit from losing this game.
The Bears with a loss would have the 7th pick in the upcoming draft while a win would have them fall between 8th and 11th. Even though the Vikings would be tied with the Bears at 6 – 10 if they lost Sunday, they would actually receive a better draft position because the Bears have a better strength of schedule.
Goodbye Marc Trestman.
One of the casualties of this lost season will most likely be the head coach… but Trestman's focus is still on winning, "We are playing the game as an independent entity and Jay has to go out, as do the rest of us and his teammates go up and play at their best. I don't look at it as any more than that, we have to play well enough to win."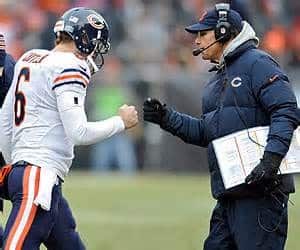 Marc Trestman may appear to be treating this game like the rest but the reality, whether he admits it or not, is that his tenure as the Bears HC is coming to an end.
The most "exciting" part of this game will be the response of Jay Cutler after Trestman benched him for Jimmy Clausen. Clausen ironically got a concussion last game verses Detroit, forcing Trestman to name Cutler the starter again since rookie QB David Fales is nowhere near ready to start a game in the NFL.
It would be SOOOO Bears if Cutler sustained a serious injury going into the offseason and Fales came in to lead the offense to 30+ points for the first time this season. An offseason that will already be filled with speculation of Cutler's future and if he will be around for the next set of coaches. If Cutler were to get injured on Sunday, it would end any possibility of a trade before next season.
There is no real reason to invest any of your time into watching this Bears game but if you are a masochist, then enjoy this team one last time.
Hello Bulls and Blackhawks.
Key Matchup: Draft pick #7 vs Draft pick #8-11
Key Injuries: WR M. Wilson (Ques.), DE J. Allen (Ques.), DT J. Ratliff (Ques.)
Fact: Bears point allowed = 429, point for = 310
Spread: Vikings -6
Prediction: Vikings 24, Bears 21
@WesEvans24
Bears-Vikings