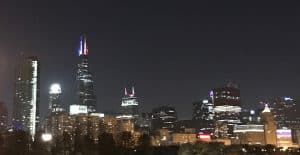 The 2018 Chicago Bears earned an enormous divisional win on Sunday night, defeating the Rams 25-20. Now, they look toward this Thanksgiving for a meeting with the Detroit Lions.
The Willis Tower was illuminated with blue and orange lights after the Bears added a crucial win against the presumptive NFC North favorites, a sign of the excitement this city has for its beloved Bears. The vibe around Chicago is just… different. The buzz is no longer negative. There's an excitement radiating from anyone wearing their Bears gear. Fans at Soldier Field talk about the path to the playoffs, not who they want to draft in the top-10.
The Bears aren't supposed to be here. Even after the Khalil Mack trade, a wildcard birth was still an optimist perspective. The Vikings were in the NFC Championship a year ago, led there by Case Keenum. Replace Keenum with Kirk Cousins, and you have a machine on offense. Who was going to take that down?
The Bears did.
Khalil Mack did Khalil Mack things, forcing and recovering a fumble by Dalvin Cook to put a boot on a promising Vikings' drive. He also added a huge sack and lived in the Vikings' backfield. Akiem Hicks destroyed the Vikings' interior all night and collected six tackles, five tackles for loss and a sack. I'll let you read that again. FIVE TACKLES FOR LOSS. Leonard Floyd consistently had his paw in Cousins's face and continued his strong play against the run, making two tackles for loss.
"Man, it's just the will to win," Mack said. "Will to win. Everybody want to be in position to win the game and you see the DBs and the linebackers and everybody working together. And it's a real special thing to be a part of."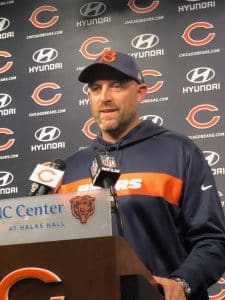 The Vikings made it interesting late, but much of that was due to the defense the Bears were playing. They switched to a prevent-heavy defense in the fourth quarter, which freed things up for Minnesota underneath and let them eat up yards on short throws and check-downs. This was where they found offensive success. That push, however, was made much more difficult because of Parkey's final field goal.
"Obviously it was a lot of fun," Parkey said. "I had a great snap, great hold from my guys and I went out there and made the kick."
The secondary came to play, and Eddie Jackson's fourth-quarter pick-six put a bow on the defensive important. But, who had the real icing score? That would be Cody Parkey, who responded from his blunderous performance a week ago by going three-for-three, the final of which put the game officially out of reach for the Vikings. The Bears won 25-20 and answered a lot of questions about their legitimacy in the NFC landscape, but they have a game to play in less than 72 hours.
"We're on to Detroit," coach Matt Nagy said. "It's a really quick turn around. It's important, and we have a plan in place with our trainers and strength staff of nutrition, and sleep, and rest, and mentally and physically making sure they're taken care of."
Yes, the Bears square off with the Detroit Lions for the second time in less three weeks this Thanksgiving. The quick turn around was only made quicker by the flexing of their game against the Vikings to Sunday Night Football. 
"This one here, when you just play somebody a couple weeks ago," Nagy said. "There's that fine line between chasing the cat's tail as to what you think they're going to do, what you saw or they think you're going to do this, so you do this so you do that. Again, just, for us, let's control what we can control."
The Lions present similar challenges as they did when the two squared off in their last matchup, only this time, Lions' cornerback Darius Slay Jr. will be active. He is one of the better cornerbacks in the NFL when healthy, and will take advantage of any catchable ball near him. He fortifies a secondary that is fairly solid when he is in, and his presence will more than likely be a big difference between the Lions the Bears played and the Lions they will play.
"You don't know what they had, you know, prep-wise going into that game a couple weeks ago," Nagy pointed out. "Did they load it up on the front end and then whatever they have leftover they go with so that's completely new plays? Or is it similar concepts that they liked and changed in the personnel/formations?"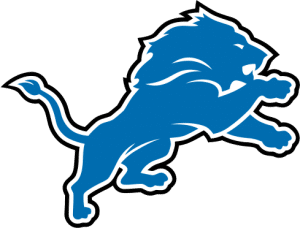 Kerryon Johnson has provided a rushing element the Lions have not had in the Matthew Stafford-era, but he may be out with an ankle injury this Thursday. Though he was largely nullified the last time these teams played, 14 rushes for only 51 yards, his absence makes the Lions' offense that much less dynamic. LeGarrette Blount and Theo Riddick will get the bulk of the carries, each presenting their own skillset. Blount is the downhill, physical runner, while Riddick is more of an elusive receiving back.
"(Johnson) was really starting to come on… as an effective runner," Nagy said. "But they have great runners back there and I know Theo Riddick and those guys will be- they're good football players, good running backs. So, whether or not Kerryon Johnson plays, we'll see, but they got good players there and they showed it against Carolina."
Mitch Trubisky threw for 355 yards and three touchdowns against the Lions in a dominant 34-22 victory. They don't have to deviate very far from their last gameplan to take a victory over an inferior opponent. There is, however, the possibility he does not play on Thursday, due to a recently injured right shoulder. Backup QB and nine-year veteran Chase Daniel will get the start if Trubisky is unable to go.
"[I am] really prepared," Daniel said. "This week is a little bit different just cause it's a short week. But I really haven't changed the way I prepare. I prepare like a starter every week so, for me, it's just another game," he added.
Daniel was brought in largely because of his familiarity with Nagy's offense, a system he has been in for much of his career.
"Nags and I go way back. He was my position coach for three years in Kansas City, obviously. And we stayed close for my time away in Kansas City. So, yeah, we have a great relationship. So, if it comes to that, you know, we trust each other pretty well so we know what each other likes and I think we'd just roll."
"This is why you have a guy like Chase," Nagy said. "You feel very comfortable with him. Chase understands. He's been in this. He's our oldest guy on the team. So, he's got experience. Chase and I have a relationship, and a coach-player relationship going back to three years in Kansas City. I know Chase inside out, he knows me inside out."
Regardless of who plays, the Bears' defense is dominant enough to make it so they don't have to light up the scoreboard to get the win. The gap between these teams is sizeable enough that a capable backup, as Daniel has been throughout his career, is enough to put the Bears in winning position, and to allow Bears fans to eat their turkey happy.
Follow on Twitter: @crbevins11 @radiomogul
Hear audio from Matt Nagy, Khalil Mack and Cody Parkey: