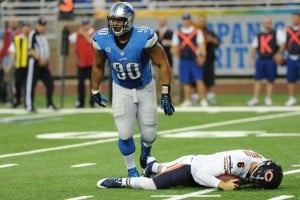 The first three games of the season, the Bears had 11 takeaways which were converted into 44 points, tops in both categories this season in the NFL.
Sunday in Detroit, the shoe was on the other foot. The Lions scored 17 points off four Bears turnovers, which led to their 40-32 win at Ford Field. The turnovers were very costly and the Bears were not able to overcome them.
Jay Cutler had been under control the first three games of the season and looked like he had improved his decision making in the offseason. That was not the case Sunday when he threw three interceptions and lost a fumble, which lead to a defensive touchdown for the Lions.
When asked about the turnovers Cutler replied, "We missed some stuff in the first half, but three picks and a fumble, its hard to come back from those mistakes." However, Cutler took ownership of the turnovers, saying "they were all on me."
It wasn't just the turnovers that plagued the Bears. The Lions running back, Reggie Bush, returned from injury Sunday to rush for 112 yards on 11 carries in the first half, including a 37 yard touchdown to give the Lions a 30-10 lead at the break.
"The offensive line did a tremendous job today, I really didn't get touched a whole lot until I got to the secondary," said Bush, who had his best game as a Lion since coming over from the Dolphins in the offseason.
On the bright side for the Bears, they did not give up in the second half and outscored the Lions 19-10 in the final two quarters, which made coach Jim Trestman happy.
"At halftime we got together and talked to our team about there would be a time just like this where the game appeared to be out of hand," Trestman said. "We decided we were going to collect ourselves and go back in and play the next 30 minutes and see more about ourselves."
The Bears did hold All Pro receiver, Calvin Johnson, to just four catches for 44 yards, but in the end they could not overcome the damage done by Reggie Bush.
"We talked all week about the significance of this game and what it meant, but at the same time not making it too big," Bush said of the preparation the Lions had for the Bears, who they beat for just the second time since Jay Cutler has been in Chicago.
The Bears will not have long to dwell on the loss, they host the undefeated New Orleans Saints this Sunday at noon.